Portland A&O Annual Event: Outdoor Responsibly
February 13, 2019 -- 5:30-9pm
The Porter (1355 SW 2nd Ave Portland)
$10
The AOYP committee is proud to present the 2019 Portland A&O Annual Event: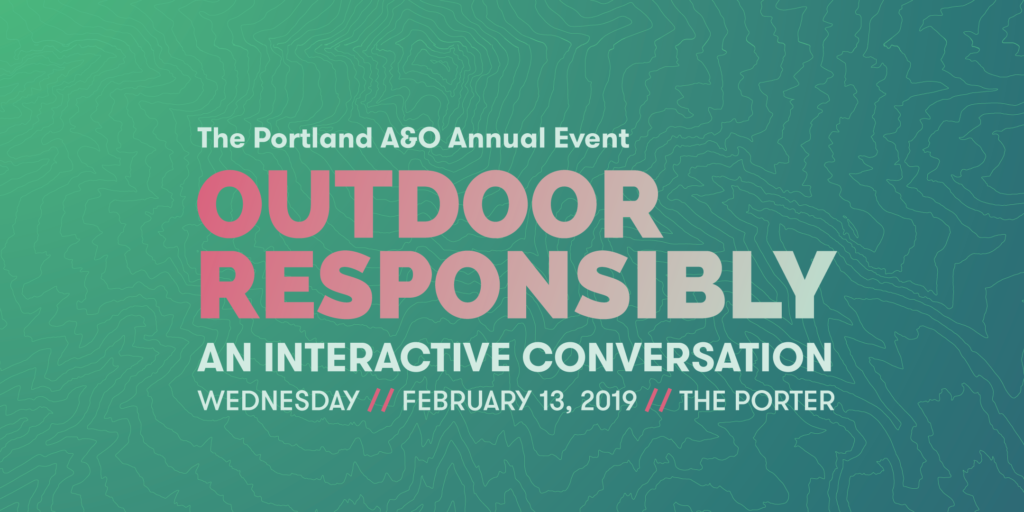 This event is an interactive conversation around how we, as an industry, as a society, and as Oregonians, are taking responsibility for the outdoors in how it is accessed, used, and marketed.
With the help of our guest speakers from KEEN, Travel Oregon, Columbia Sportswear, Wild Diversity, Adventure Without Limits, Trailhead Ambassadors and Trailkeepers of Oregon, we will discuss these questions together, in break out sessions and through social media.
This event is an opportunity to engage with each other and the organizations actively working to address these issues in a thoughtful and inspiring conversation.
Tickets to the event include 2 drink tickets, entry into our raffle prizes and a Scout Book.
SPECIAL THANKS: Travel Oregon and Scout Books
SPONSORS: If you are interested in getting involved or sponosring this event, please contact Sucheta Bal.
Get your ticket