KEEN, Inc., (KEEN) and Newport Festivals Foundation have teamed up once again to create the Newport Revival partnership. For the second year in a row, KEEN designed a limited-edition Newport Revival sandal and donating half of the proceeds to Newport Festivals Foundation music education initiatives. For every pair sold, $50 will go to Newport Festivals Foundation for music education initiatives, which provide instruments for communities that have faced a natural, economic or cultural hardship and are in need of reviving.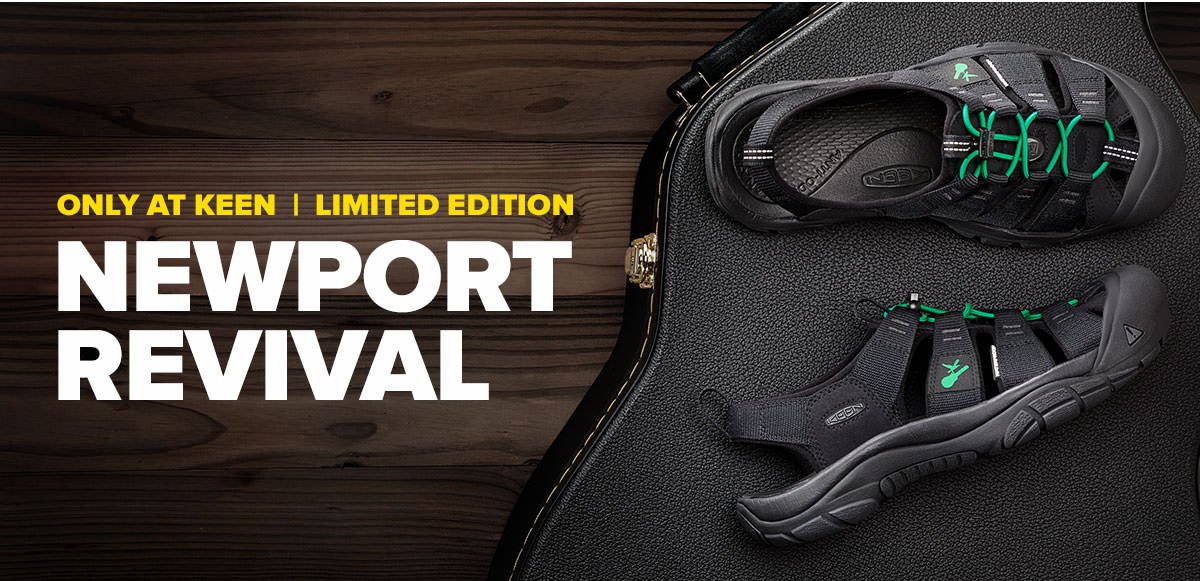 "It has been an honor to work so closely again with the Newport Festivals Foundation," says David Munk, Director of Events for KEEN. "The impact Newport Festivals Foundation is making in communities across the country has had a ripple effect that KEEN is proud to support."
In early May 2019, the partnership brought Newport Festivals Foundation to KEEN's hometown of Portland, Oregon. 98 instruments worth $20,000 were donated to Wiles Elementary School, Studio Latino/SUN Latino Network, Roosevelt High School, and Ethos Music Center—public music programs that serve immigrant and refugee communities. Patterson Hood of Drive-By-Truckers and Kyle Craft attended the donations. All instruments were provided by Portland Music Company and Conn-Selmer Education.
"After speaking with artists and educators in Portland we discovered numerous nonprofits and schools using music to help underserved youth in distressed communities," says Dan Swain, the foundation coordinator at the Newport Festival Foundation. "For the students in these communities, there's a financial barrier to entry preventing them from benefiting from these programs. By donating instruments to these programs, we're lowering that barrier and providing music education to those who stand to benefit most" said Swain.
The Newport Folk Festival was one of the first modern music festivals in the U.S., beginning in 1959 and becoming a venue for voicing support of the Civil Rights Movement. As a valued-led, independently owned outdoor and lifestyle footwear brand, KEEN will continue this tradition of grassroots activation by sponsoring the Newport Folk Festival July 26–28, 2019 in Newport, Rhode Island.
With a classic KEEN design, the Newport Revival sandal features a Newport Folk Festival logo on the black washable polyester webbing upper. With a quick-dry liner for active comfort, rain or shine, and a bold green lace-lock bungee system to provides a custom fit, the water-friendly sandal has a siped, non-marking rubber outsole with a multi-directional lug pattern for grip on slippery boat decks to rocky terrain and everything in between.
KEEN and Newport Festivals Foundation are proud to unveil a video showing the success and impact of the event in May 2019. You can view a video recap and learn more about this partnership at keenfootwear.com/blog and learn more about the Newport Folk Festival at  www.newportfolk.org
The limited-edition Newport Revival sandal (MSRP $100) is available for purchase at the Newport Folk Festival from July 26–28, 2019, and at keenfootwear.com. With $50 of the purchase going to the Newport Festivals Foundation.
Please direct KEEN media inquiries to Account Manager Ethan Peck at ethan.peck@rygr.us.
About KEEN: Driven by a passion for life outside, KEEN is a values-led, independently owned brand from Portland, Oregon, that's on a mission to create original and versatile products, improve lives, and inspire adventures outside. Founded in 2003, it launched a revolution in the footwear industry with the introduction of the Newport adventure sandal and has continued to launch disruptive products and establish new standards for performance, comfort, and design. As a family-owned company, KEEN has made doing good part of doing business since day one. By working with non-profit partners, consciously constructing its products, providing grant funding to grassroots organizations, and activating communities and individuals to protect the places where we work and play, KEEN puts its values in motion to leave the world a better place. Learn more at keenfootwear.com/keeneffect.