The 10th. Annual Oregon Handmade Bicycle Show will be held over the weekend of August 12th. and 13th. at Cathedral Park Place in North Portland, just below the St. Johns Bridge.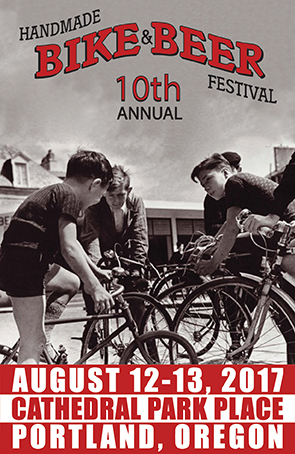 This show features handmade bicycles and cycling accessories from both Oregon companies and from around the USA and indeed, from around the world.
Come enjoy good food, local beer and beautiful and functional handmade bicycles in a classic old Portland facility – Portland Woolen Mills Building (now Cathedral Park Place) – close to Cathedral Park on the Willamette River.
LOCATION:  Cathedral Park Place, 6635 N. Baltimore Ave, Portland, OR 97203
SHOW TIMES:  Saturday 12 August; 10am-7pm, 7pm-8pm Filmed By Bike special program.  Sunday 13 August; 11am-4pm
PROMOTER:  Oregon Bicycle Constructors Association, a 501 (c) (6) non-profit trade group who's mission is to promote the welfare of Oregon based bicycle manufacturing companies.
SPONSORS:  Point West Credit Union, Oregonian/OregonLive, Portland Made, Travel Portland, Travel Oregon, Prosper Portland, Built Oregon, and more to come.
WEBSITE:  www.oregonframebuilders.org