Moxie & Moss, a garden design business founded in 2012 by Kyle Marie Begley and Kate Day, is at an exciting time in its brief existence. After years of working in landscaping and feeling increasingly dissatisfied with their workwear choices, the two suddenly realized a new vision for their startup: creating women's workwear that actually, you know, works and looks good. Sure, there were some reliable, quality men's brands, but Kate and Kyle too-often found they failed women in both form and function, often ill-fitting and coming in unattractive styles. The niche women's options were underwhelming for other reasons—expensive or overly feminine.
Fortunately, one of their landscape clients, Sara Deluca, was an apparel executive with a specialty in denim. As they collaborated on the design of Sara's yard, Kate and Kyle shared their frustrations about workwear. A conversation in Sara's garden soon led to the development of their first workpant and the formation of the Moxie & Moss Workwear company. Now they've launched their signature product, the Maven workpant (think Carhartts but with far more craft, style, and attitude).
With all the hubbub and excitement over this new product launch, we decided to chat some with Kate & Kyle about their company and products, inspirations, any advice they can impart and more…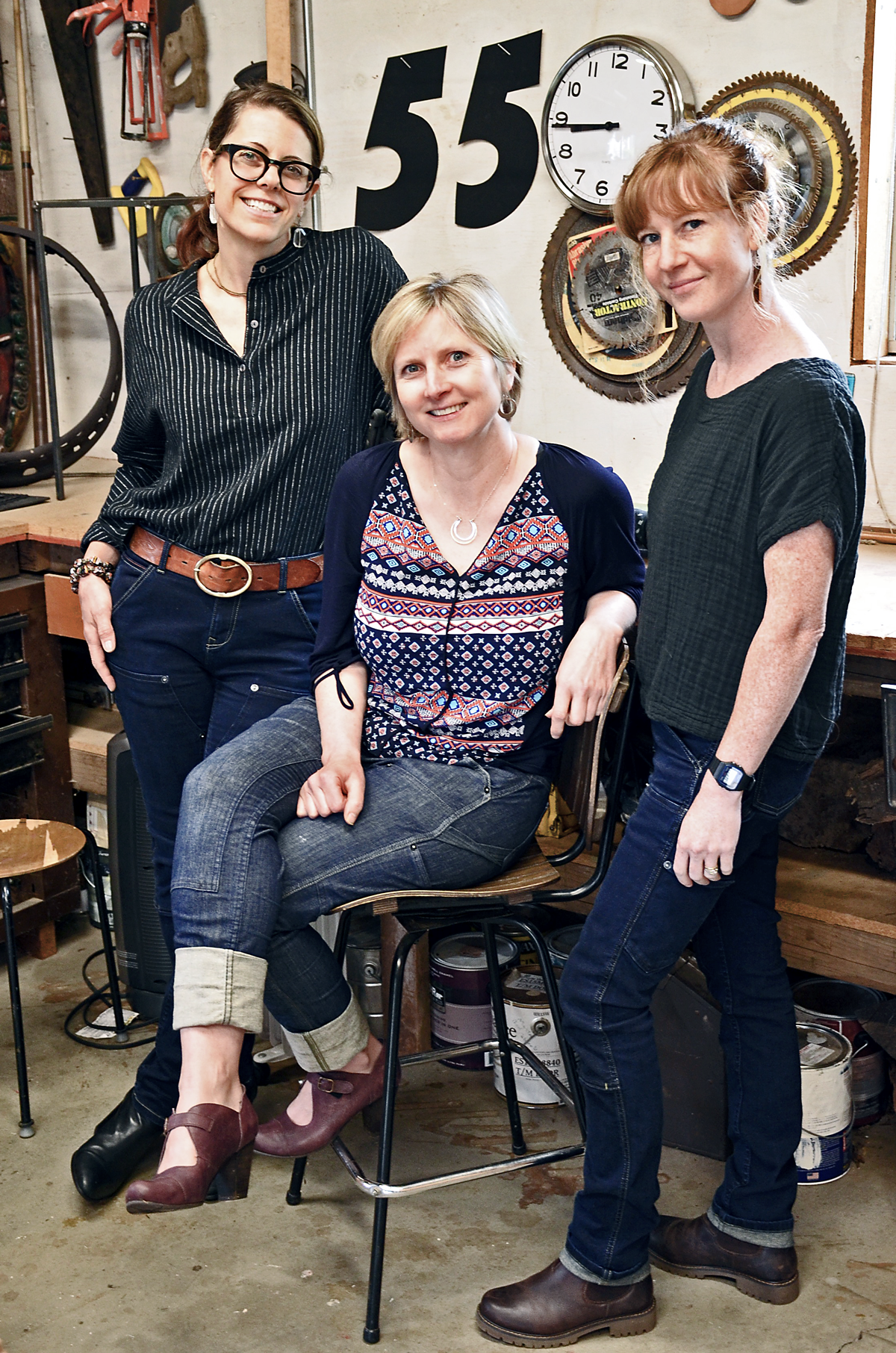 What does your company structure look like?
We're a bootstrapping women owned start-up so us three founders cover most of the bases (product design and development, communications, strategy, and business development), with support from a number of key individuals and firms in our amazingly creative and supportive PDX community.

What are your core products?
The Maven. This pant performs in the toughest of environments, yet translates throughout every part of a woman's day due to its refined fit and style. Three versions of the pant (with fabric sourced from Cone Denim in North Carolina) are on offer: two indigo denims with 1% and 3% stretch; one black denim with 1% stretch. Sizes are available from 00-18 with 3 inseam choices.
Custom-crafted handkerchiefs and bandanas (designed by Portland firm Creative Attik) are also available for pre-sale. We will be expanding our Fall 17 product line to include the Maven pant offered in additional fabrics, a waxed canvas vest, and other accessories including graphic t-shirts, belts and hats. 
How do you go about developing your products?
We work as a team of three women, basing each new product on needs that we experience in our own lives, both as workers and as women. We are motivated to create workwear products that we cannot find anywhere else in terms of blending the best of function, fashion and quality. We put each product through extensive personal testing and iteration; then test it with a large field testing team of women from a multitude of trades and creative industries. We are producing products that we feel are missing in our own wardrobes.
What types of skills have you learned on the job as business owners compared to your previous career in landscaping?  
We never set out to create an apparel startup, so some days it's surprising to be working through the short, mid and long-term development aspects of building a competitive apparel business. It's honestly a ton of work—we do all our own design, sourcing, and production oversight, all of our own marketing and PR outreach, business planning and organization, as well as host our trunk shows and make ourselves available at events to introduce women to our brand and product. Plus, if you are serious about your business, you need to spend extra time networking and connecting with the larger business community. So everything that people say about owning your own startup is true–the work is relentless and very demanding.
What aspect of your company or products would others find most surprising?
We are really proud of how we are serving all types of women—whether extremely petite or ripped with muscle, we have worked hard to offer a democratic fit that incorporates high quality denim with the right amount of stretch to purposely accommodate different shapes and sizes. Our current pant size range runs from 00-18 and we plan to build out our plus size range this fall. We also pride ourselves on the fact that we obsess equally over the stylish and fashionable qualities of each product–again through feminine patterning and details, fabric choices, and a general design approach that prioritizes urban sophistication.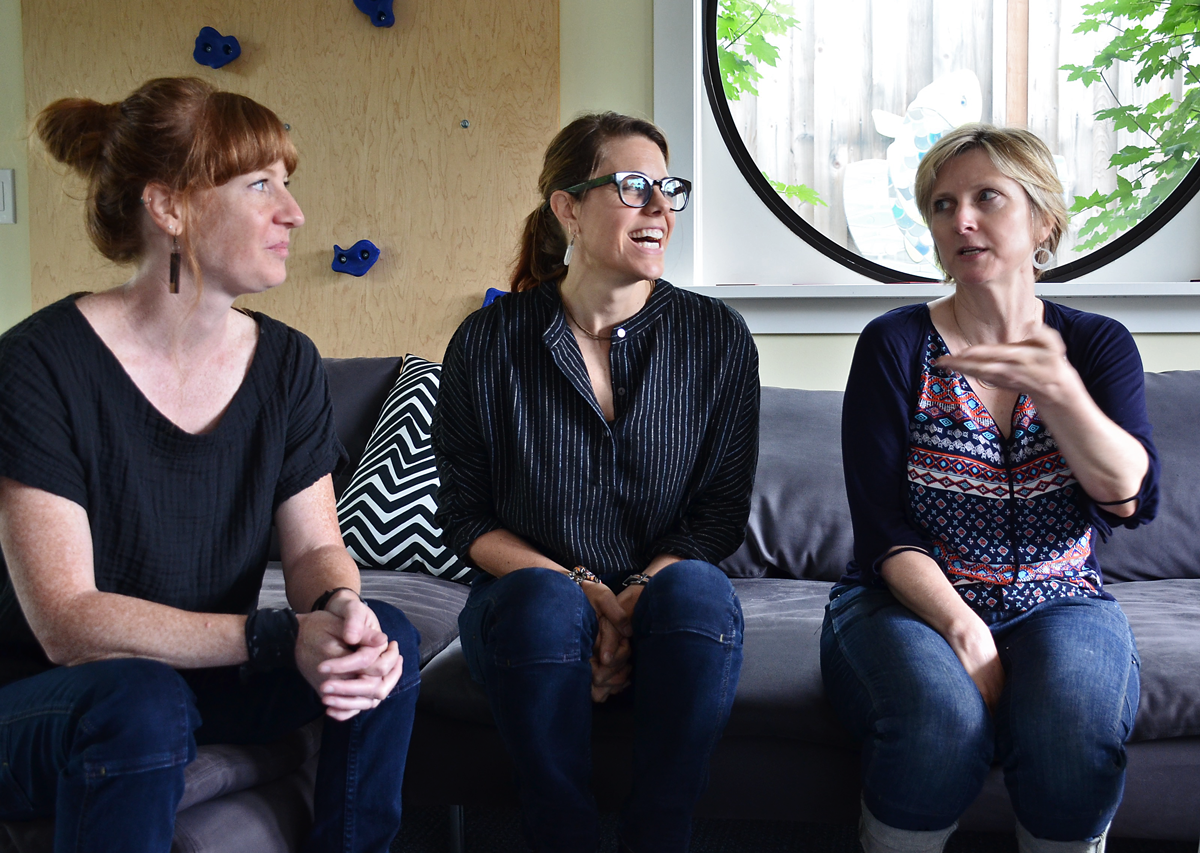 What is your big vision for the company?
Moxie & Moss Workwear is proud to be a part of an emerging market that is meeting the demands of creative and entrepreneurial women. The MMW brand is targeting women who share a common outlook around the importance of physical work, looking attractive, valuing craftsmanship and believing that being feminine can include working tough and getting dirty. This brand positioning is nuanced and timely in today's increasingly complex clothing marketplace. There are shifts toward non-gendered brands, a redefinition of traditional masculine and feminine identities and livelihoods, a prioritization of quality materials and craft, and also higher-tech apparel designs targeting outdoor activities and labor-intensive work. Few brands, however, have a voice that speaks to women that live and work at the intersection of these trends. MMW aims to become a brand platform that will define the aspirations and lifestyle of women who seek a brand that balances function with style, heritage with future, and ruggedness with sexiness. They are looking for a story that reflects their individual moxie. The characteristics and focus of the MMW brand intends to drive the evolution of a new category within women's apparel targeted at women who are looking for workwear products that reflect their interests in individuality, craftsmanship, and fashion consciousness.
What fellow Portland A&O companies do you find interesting or inspiring?
We're inspired by Wildfang, of course, particularly their brand expression and dialoguing with their customers. Emma totally walks the walk as a woman CEO forging a new path, and we can't say enough about her commitment to the cause of female entrepreneurship. ShowersPass informs us a lot since they started out making products that met the need of hardcore users (cyclists) but are now crossing over to appeal to lifestyle customers. Kiriko is another great brand that makes beautiful diverse products that spotlights both their craft and the beauty of textiles.
What type of support have you gotten from A&O in Portland?
We are constantly in awe of the open minded, supportive attitude towards business owners and young startups in Portland. We have received guidance and mentorship from more people than we can possibly list here. Every conversation adds to our learning curve. And we've started to partner with some really creative organizations that are making resource and information sharing more available in the startup apparel industry, such as Portland Apparel Lab. Also, we often say that we couldn't have gotten this far without our personal network and communities—everywhere we look we have found working partners, mentors, and supporters, ranging from graphic artists to photographers to lawyers to field testers. The community here is vast and wide and it's a beautiful thing to participate in.
What do you find challenging/rewarding with having a company based and producing products in Portland?
I've covered a lot of the positives previously. There are still a lot of challenges inherent to a market this size. We do not yet have a strong apparel infrastructure that supports small and mid-size apparel startups. Simple things like fabric and supplier trade shows are not held locally. We still do all our sourcing out of LA or NY which uses up valuable time and money. There is also not enough creative financing solutions available to small apparel businesses. Because this industry is not as lucrative as tech investment, it lacks adequate startup capital sources. This is a huge problem in a highly capital intensive industry and explains why very few apparel businesses can get past the bootstrapping phase.
What is your favorite thing to do in Portland?
Gardening, of course, in this amazing Pacific Northwest climate. It's at the root of how this business started, and the three of us each engage in deeply personal ways—as a creative source, for enjoyment, stress relief, you name it!
What advice would you give a fellow female entrepreneur?
Talk to other women as much as you can, look hard in your own back yard for partnership and advice. Its different for women, but we are here to support one another. Keep at it!
________
Moxie & Moss Workwear is featuring a limited online pre-sale of the Maven this summer and will be offering in-stock online sales starting in September. There will be multiple Trunk Show dates – including one at Hand Eye Supply on June 20 and another with Portland Apparel Lab on June 23rd  — check their website for more info). The full size set in all fabrications will be on hand for fitting and pre-sale purchase at the June 23 trunk show.
---