Built Oregon has developed an online multi-vendor marketplace to support Oregon consumer-good companies and celebrate Oregon's entrepreneur culture. It is a direct-to-costumer marketplace in which shoppers will be able to discover and shop Oregon products by region, category, and featured collections – including seller's own dedicated shop. Customers purchases are shipped directly from the sellers or picked up at their store front.
"The Built Oregon Marketplace is a celebration of Oregon made products and the places these products call home, how the regions shape these products, and, most importantly, the people and communities behind them. The importance of the marketplace cannot come at a more critical time."
—Mitch Daugherty, Built Oregon Cofounder and Executive Director
The Built Oregon Marketplace opened on October 15th to feature products from the state's seven regions, elevating storytelling and products from Black, Indigenous, People of Color (BIPOC), Women, LGBTQIA+, and Rural Founders. It is free for local consumer-based businesses to join. Businesses are invited to join by early November in order to participate in the Built Together Shopping Days, an integrated holiday shopping campaign on November 19th – 22nd.
No cost to join
Built Oregon receives 10% commission, inclusive of all transaction
Sellers can list products individually, upload with a CSV file, or connect their existing Shopify, Woo, or Etsy online stores
Customers products are shipped directly from the sellers or store pickup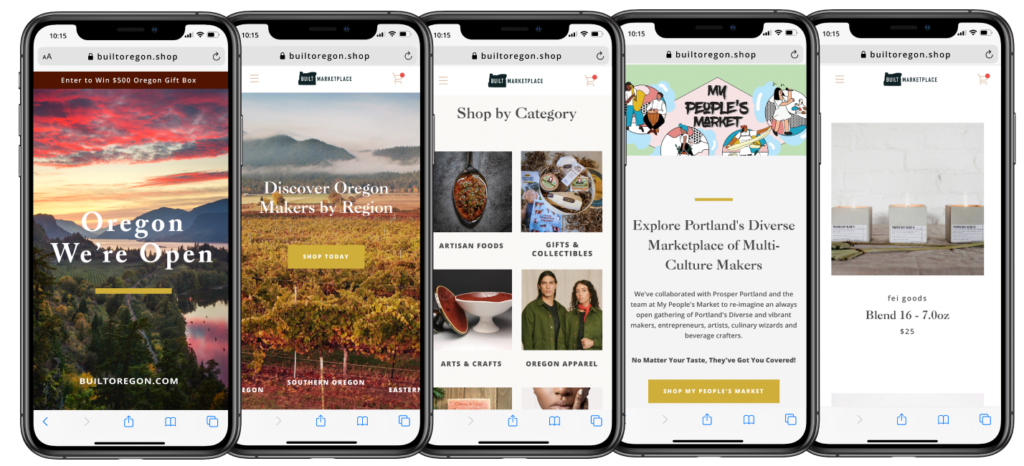 Built Oregon is hosting weekly ZOOM sessions in addition to their online account set up and on-boarding resources to help companies get started on this etsy-like marketplace.
To learn more, please visit https://www.builtoregon.shop/
---
Built Marketplace FAQs
1. Cost
No cost for sellers to join the Built Oregon Marketplace
Built Oregon receives 10% commission, inclusive of transaction fees, from items sold through the marketplace
Built Oregon Marketplace does not receive commission on customer paid shipping rates
2. Listing Product
Sellers can list products individually, CSV file, or connect their existing Shopify, Woo, or Etsy online stores
Built Oregon has provided directions within their On-boarding Resource Guide
3. Orders
Sellers receive Order Notifications via email and notification on their Seller Dashboard
4. Shipping and Fulfillment
Sellers handle all fulfillment & shipping requirements and are responsible for all shipping & handling costs
Sellers have the opportunity to purchase shipping labels through the Marketplace via USPS (Shipstation) or UPS
Sellers can fulfill products using their own shipping process and labels that align with customer's shipping terms
Built Oregon Marketplace has negotiated a discount rate with UPS that can be passed on to Sellers own UPS account [Avg 33.5% savings off Ground // 57% Savings on 2 & 3 Day // 62% on Next Day] ; USPS standard commercial discount
Shipping Labels purchased through the Marketplace do not include Ship Insurance. Sellers will need to provide their own insured labels. All labels, insured or otherwise, created by Seller to fulfill an order must have tracking number added into the Marketplace at point of fulfillment. Tracking number automatically included in email confirmation to customers
5. Returns
Each Seller sets their own return policy, posted within their Shop Profile and can be specified by Product Listing
Buyers responsible to contacting Sellers directly to coordinate Returns & Sellers responsible for all return coordination
Marketplace Customer Service Policy states that consumers are responsible to pay for shipping returns
Built Oregon commission is non-refundable for returned items
6. Payout
Sellers paid, less the 10% commission, automatically 14 days after order delivery date
Sellers paid via linked Paypal business account. Sellers must have a PayPal Business account to receive payments
7. Product and Online Presence Management
Marketplace Sellers provided with their own Marketplace Dashboard to monitor & update Marketplace Shop
8. Promotion of Marketplace
Sellers are encouraged to leverage the Built Oregon Marketplace Social Media Toolkit to create awareness and consumer engagement
---
About Built Oregon
Built Oregon is a non-profit 501c3 was founded 2016. A collection of over 150 local consumer product business executives across a variety of disciplines that donate their time to mentor Oregon entrepreneurs and small consumer product companies grow and scale their businesses through the Built Accelerator, Bridges Programs, and now Built Oregon Marketplace.
The Marketplace is an extension of Built Oregon, a network of consumer product industry experts and mentors dedicated to helping company founders create more equitable, innovative, supportive, and sustainable businesses across Oregon.
ABOUT PROSPER PORTLAND
Prosper Portland creates economic growth and opportunity for Portland. Our vision is to make Portland one of the most globally competitive, healthy, and equitable cities in the world by investing in job creation, encouraging broad economic prosperity, and fostering great places throughout the city. We aspire to be a workplace of choice with passionate staff excelling in an open and empowering environment and sharing a commitment to our collective success.