Portland Garment Factory (PGF) is a zero-waste full-service creative design and fabrication studio located in southeast Portland. Founded in 2008 by Creative Director Britt Howard, PGF is a leader in soft-goods innovation, design, and fabrication, produced in-house and in collaboration with a diverse array of designers, artists and brands. With a fundamental ethos of play, experimentation and innovation, their creative output spans unique installations, seeding kits, and full-service clothing manufacturing.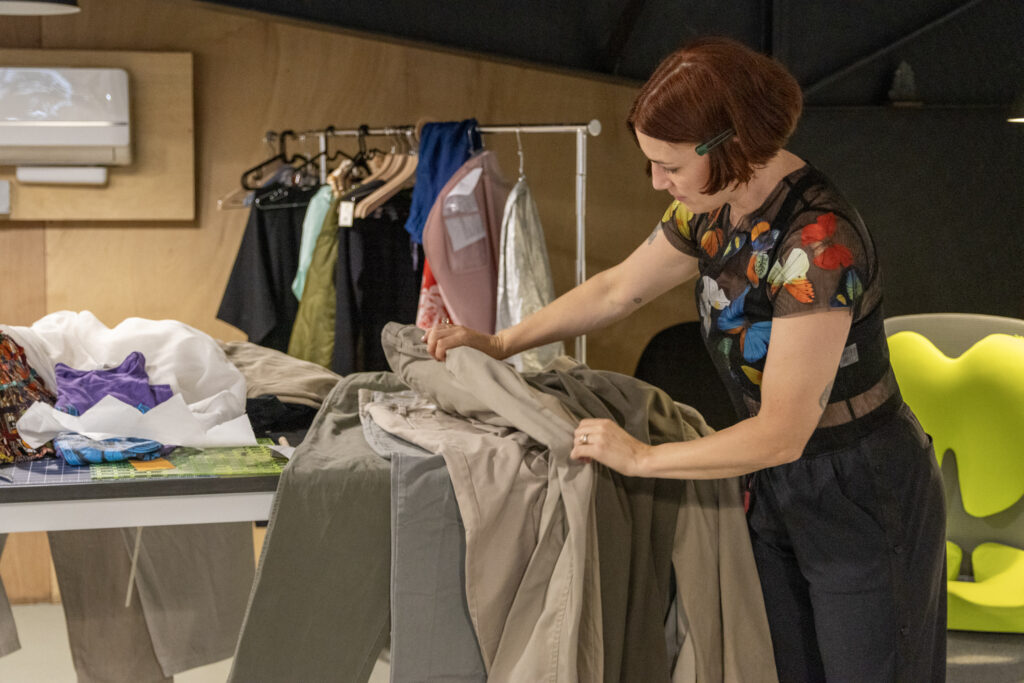 ---
We caught up with Britt to learn more about what she envisions for the future of her business and the Portland textile industry.
What do you find to be the most rewarding part of your job?
My passion is building community through creative collaboration. I love cultivating the team at PGF, highlighting and digging into our collective talents to make interesting ideas come to life!
What is your big vision for the future of your role, business or organization?
My vision is grow the business to the most sustainable size possible while continuing to focus on creative projects that light my fire but lower my stress levels. Is it possible? Who knows!?
What type of products or designs are you working on for this year?
I have recently started a second business which operates as an arm of PGF. It's called Studio Howard. With the studio we focus on truly regenerative and sustainable design projects mainly serving the architecture and interior design industries. Imagine taking all the curtains from an old high school and creating a sculpture from them for the lobby of a boutique hotel. A big dream of mine would be to take various materials from local industries (fabric grind, wood pulp, plastic shards) and create sturdy table legs for all the schools and libraries in Oregon. It's about good design but it's also about the future.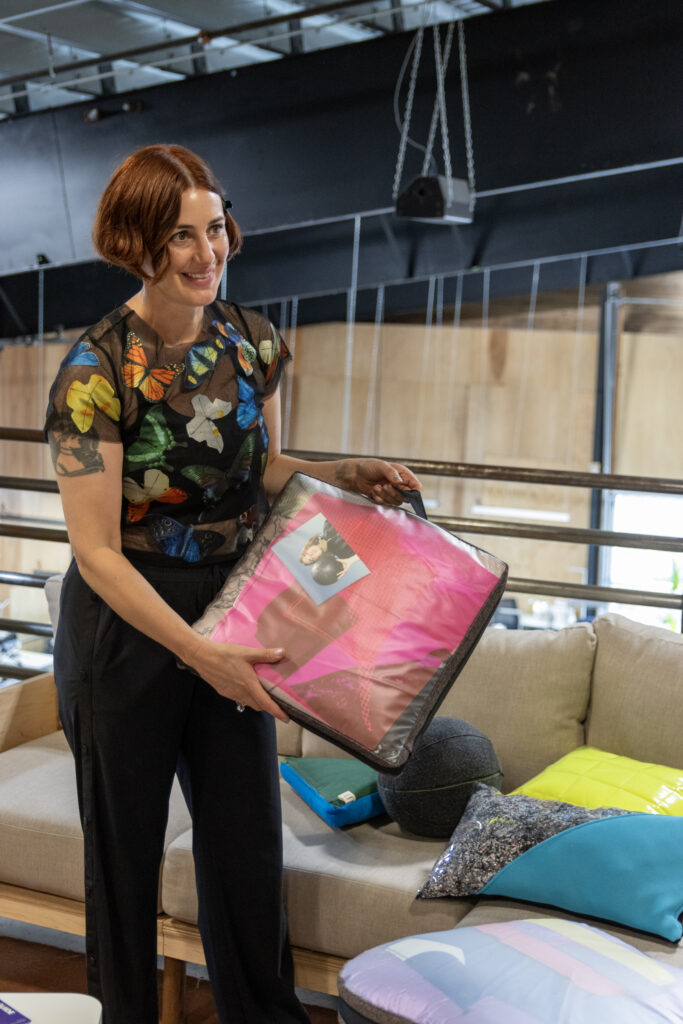 What projects are you the most proud of?
We have recently soft launched PGF's line of blank/white label products. I LOVE the big oversized printable tote bag. I currently have one with a full bleed print of the factory floor on it; I get compliments all the time. It's a way for PGF to offer unique swag to other businesses instead of the traditional T-shirt….nobody needs another logo T!
How do you feel Portland shapes or influences your company? Shapes your work?
I grew up here and I feel strongly that the punk rock ideals and the nature of the typical Portlander shapes my work because it always starts with community (very punk.) To the degree that I can express my influences through my work (sometimes it's hard because we design and make for a lot of big brands), I tend to lean toward being a contrarian which is a lil' kiss I blow to Portland!
What advice would you give a fellow business owner or entrepreneur?
Be authentic. Don't worry about others. Prepare to work and play in tandem almost 24/7!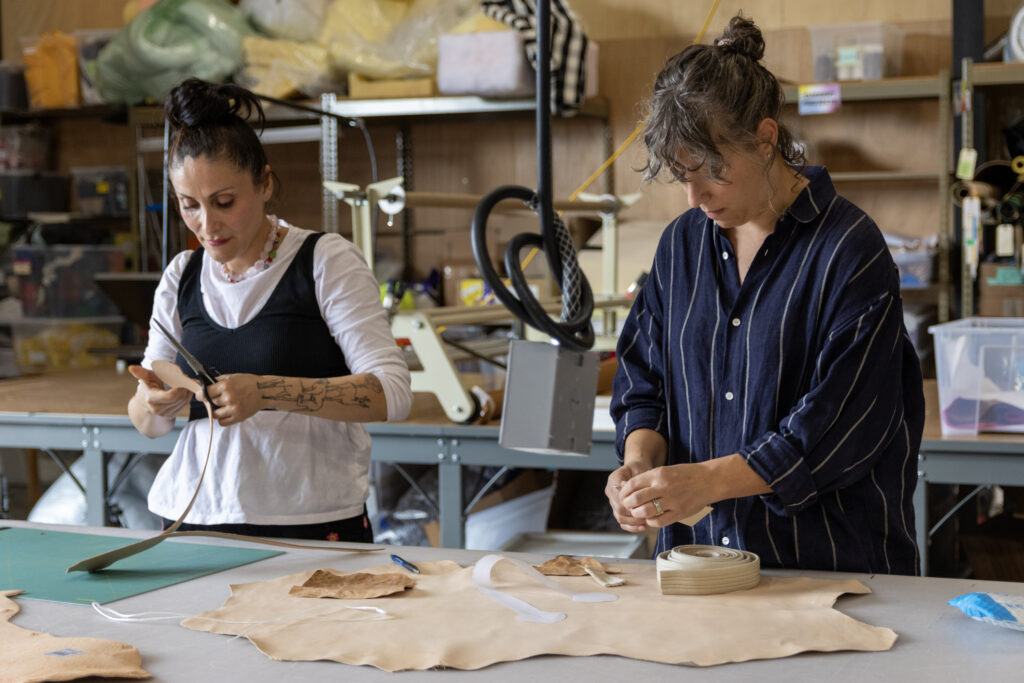 ---
Portland A&O powered by Prosper Portland supports the success of Oregon's 800+ Athletic and Outdoor firms through community, peer-to-peer learning, events, and programming.
Portland A&O Community features are our way to highlight different jobs, roles, and programs impacting and supporting Oregon's impressive A&O industry. By sharing stories, advice and experiences, we can continue to support the industry and the people who make it thrive.
If you have a product, company or personal story to be featured, share with us!
ABOUT PROSPER PORTLAND
Prosper Portland creates economic growth and opportunity for Portland. Our vision is to make Portland one of the most globally competitive, healthy, and equitable cities in the world by investing in job creation, encouraging broad economic prosperity, and fostering great places throughout the city. We aspire to be a workplace of choice with passionate staff excelling in an open and empowering environment and sharing a commitment to our collective success.
ABOUT PORTLAND A&O
Portland A&O powered by Prosper Portland aims to support the success of Oregon's 800+ Athletic and Outdoor firms through community, peer-to-peer learning, events, and programming.
Prosper Portland/Portland A&O strives to support emerging A&O/Consumer Products brands by providing opportunities such as assistance with attending wholesale trade shows, education and peer support, and networking events.