Over the course of several decades, multi-hyphenate "designer, ethnographer and entrepreneur," Andrea Aranow amassed a collection of over 50,000 unique textiles throughout her worldwide travels. Her collection includes pieces from over two centuries and 70 countries including Laos, China, Japan, Philippines, Afghanistan, Uzbekistan and France.
"Most of my thrilling experiences have been coming across textiles in unexpected ways."

-Andrea Aranow
Having existed in multiple iterations over the years, Aranow's remarkable collection now resides in Portland and is known as Textile Hive. Aranow's son, Caleb Sayan, stewards the collection and in 2009 oversaw efforts to digitally catalogue and archive the textiles in a searchable database. Textile Hive is now the largest private digitized textile collection in the world, and serves as a hub of inspiration and knowledge for textile designers. Interested parties can purchase memberships for access to the digital and physical archive.
Sayan is also the mind behind Portland TextileX Month, which will be kicking off its 2023 festivities on Saturday, September 30th. This year, the festival's theme is "Mixed Identities," and will highlight diverse perspectives and fluid identities across a myriad of cultures and generations.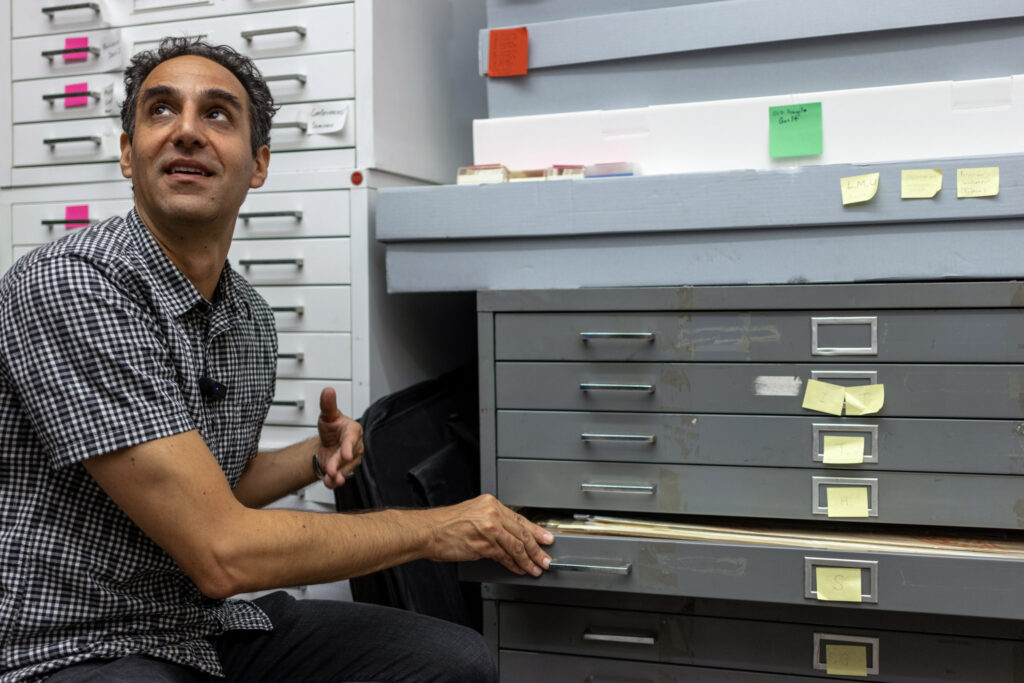 ---
We caught up with Sayan at Textile Hive to learn more about what he envisions for the future of the textile industry in Portland.
Please introduce yourself and describe your current role.
My name is Caleb Sayan. I currently run Textile Hive and organize Portland TextileX Month. I wear many hats but thrive in organizing, documentation, storytelling, and connecting people. Textile Hive was founded to engage and preserve the rich history, intricate techniques, and stunning visual beauty of the Andrea Aranow Textile Collections. Portland TextileX Month Festival was created to build community and foster cross-pollination among textile enthusiasts, artists, businesses, schools, and cultural organizations in Portland and beyond.
What do you find to be the most rewarding part of your job?
The most rewarding parts of my job are being surrounded by beautiful textiles and artwork, continuing and building upon my mother's legacy, and getting to meet and work with folks from all across the textile community.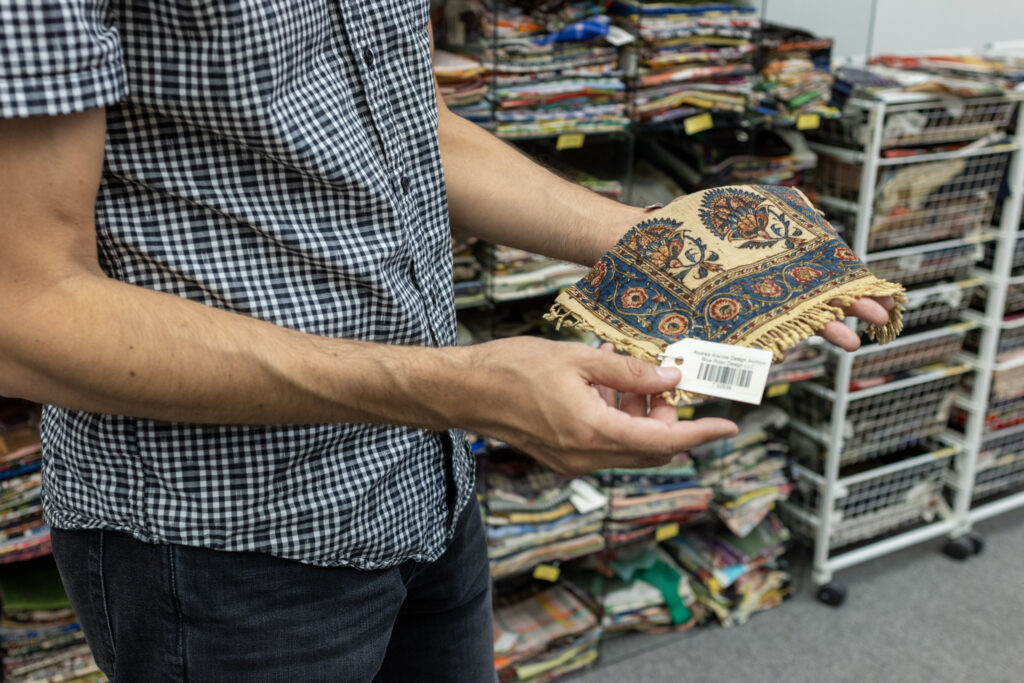 What is your big vision for the future of your role, business or organization?
My vision for Textile Hive and Portland TextileX Month is to combine the best aspects of cultural institutions, fashion and textile businesses, higher education, festivals, and galleries. My ultimate goal is to create a sustainable social enterprise that promotes community, knowledge sharing, and the creation and inspiration of beautiful products that honor and carry forward past traditions in contemporary ways.
What types of products or designs are you working on for this year?
We continue to digitize and add thousands of textiles and artworks to our visual database. Recently, we launched framed wall art on our web shop. This fall, we are working on creating custom t-shirts using our historic duplicate fabrics and crafting one-of-a-kind hanging tapestries for the home. With an abundance of fabric on hand, please feel free to contact us for projects or collaborations!
What type of support have you gotten from A&O Portland in the past?
This year, A&O Portland has supported and sponsored Portland TextileX Month, which has the theme of "Mixed Identities."
What fellow Portland A&O companies do you find interesting or inspiring? Why?
I'm most inspired by all the talented textile artists and designers I meet who work at various A&O companies in Portland. Portland's textile talent runs deep!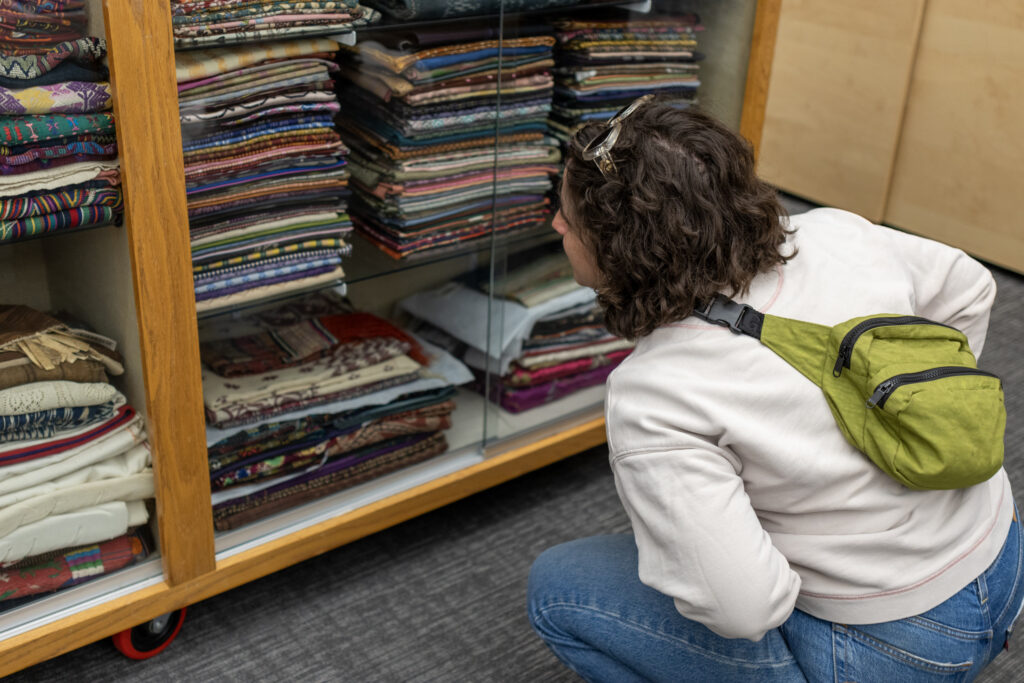 What could the Portland A&O community do to support you now?
On the Textile Hive side, we'd like our collection to be used more and would love to have more local members and offer more tours. On the Portland TextileX Month side, we'd love to have more community partners and sponsors from the related business sectors.
How do you feel Portland shapes or influences your company and work?
As a New York City native New and a seasoned Portland transplant, I've been shaped by the natural beauty of our surrounding environment and the talented craftspeople that Portland has to offer.
"When I arrived in Portland in 2009 after the financial crisis, I think I was looking for a bigger mental challenge. Digitizing the collection provided me a lot of complicated things to figure out."

Caleb Sayan, Textile Hive
What advice would you give to someone looking to start working in the Portland A&O industry?
Don't be shy and try to attend as many textile events, both within and outside the industry, as possible.
What advice would you give a fellow business owner or entrepreneur?
Community building and facilitating connections are worthwhile endeavors, even if the business cases to support them are not immediately apparent
---
Portland A&O powered by Prosper Portland supports the success of Oregon's 800+ Athletic and Outdoor firms through community, peer-to-peer learning, events, and programming.
Portland A&O Community features are our way to highlight different jobs, roles, and programs impacting and supporting Oregon's impressive A&O industry. By sharing stories, advice and experiences, we can continue to support the industry and the people who make it thrive.
If you have a product, company or personal story to be featured, share with us!
ABOUT PROSPER PORTLAND
Prosper Portland creates economic growth and opportunity for Portland. Our vision is to make Portland one of the most globally competitive, healthy, and equitable cities in the world by investing in job creation, encouraging broad economic prosperity, and fostering great places throughout the city. We aspire to be a workplace of choice with passionate staff excelling in an open and empowering environment and sharing a commitment to our collective success.
ABOUT PORTLAND A&O
Portland A&O powered by Prosper Portland aims to support the success of Oregon's 800+ Athletic and Outdoor firms through community, peer-to-peer learning, events, and programming.
Prosper Portland/Portland A&O strives to support emerging A&O/Consumer Products brands by providing opportunities such as assistance with attending wholesale trade shows, education and peer support, and networking events.