5th Annual Athletic & Outdoor
Industry Celebration!
Wednesday, December 3
Eastside Exchange Ballroom
123 NE 3rd Ave.
6:00 – 9:00 pm
REGISTER
Register today for the fifth annual A&O Industry Celebration!
For the Fifth Annual Industry Celebration, we are partnering with The Clymb to call all adventurers, entrepreneurs, athletes, designers, outdoorsmen and women to tell us your A&O stories! Whether you've completed a dozen Iron Man competitions, started your own company, or you ran your first 5K this year, you are an inspiration.
We want to hear about your accomplishments, your challenges, and what you learned. We are looking for people who don't mind sharing their stories and pictures in front of a crowd, and who want others to learn from their mistakes or be inspired by their successes. Submit your story for a chance to be selected to present at the annual event.
We will also select additional stories to be featured on the A&O site.
Winners will receive gift certificates to be used on theclymb.com
SUBMIT YOUR STORY
Plus your favorite infographic is getting a makeover!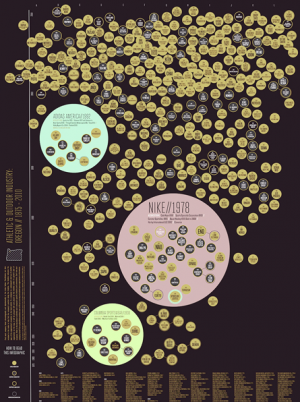 Five years ago, a hundred or so people gathered in a room and heard from industry leaders and government officials on a new initiative designed to promote and grow the Athletic and Outdoor industry in Portland.
We unveiled a comprehensive study, action plan, and infographic to show the depth and breadth of the industry here. Five years later, a lot has changed. The industry has added more than 5,000 jobs to the economy, new businesses are forming every day, and people around the world recognize Portland as a leader in talent and innovation for the A&O industry.
Technology has also changed. Through our work with Oregon Story Board and Citizen, we have been able to transform the static infographic poster into an online, interactive tool that tells the story of the Athletic and Outdoor industry in Portland and Oregon.
Presented By:



Thanks to our partner:


Interested in sponsoring this year's event? Email Sue Bal at bals@pdc.us