There's no denying that Portland has an ever growing number of locally-based backpack and bag designers and as the school year begins (too soon for students, not soon enough for parents), we're spotlighting some of Stumptown's trendiest designers and manufacturers. While many are connected to the biking culture, others focus on bags for climbing, work, and just everyday fashion. Our thanks to Lemolo Baggage, North St Bags, Queen Bee Creations, Truce Designs, and CiloGear for sharing their stories.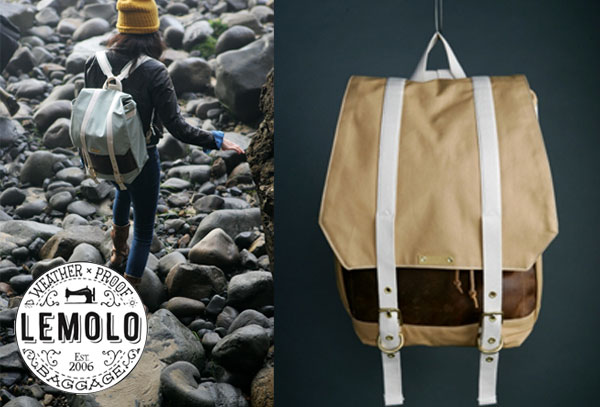 Elias Grey started Lemolo Baggage in his Portland apartment in 2006. Using the sewing skills he picked up from his mother and grandfather, Elias began constructing hand-made waterproof bags by special order. Elias now works out of a studio in Portland alongside his trusty canine companion, Louis. Lemolo creates functional and stylish all-weather baggage and specializes in high quality bags built in small-run and limited edition batches and all proudly made in the USA.
The Lemolo Daypack is the ideal backpack for hauling a laptop and books to school, for weekend trips, or everyday errands. The sturdy outer layer is constructed with cotton army duck treated with a double application of waterproofing agents, while the inner liner is composed of lightweight abrasion/water resistant cordura. Their floating liner construction helps keep all of your belongings clean and dry year-round. The Daypack also features a large distressed leather outer pocket with magnetic closure, one small brass zipper pocket, and comfortable canvas straps with brass buckles.
Elias explains, "Lemolo would not be what it is today without Portland. I feel a real sense of community among my fellow craftspeople, and an overwhelming amount of support from the great folks that live here."
NORTH ST. BAGS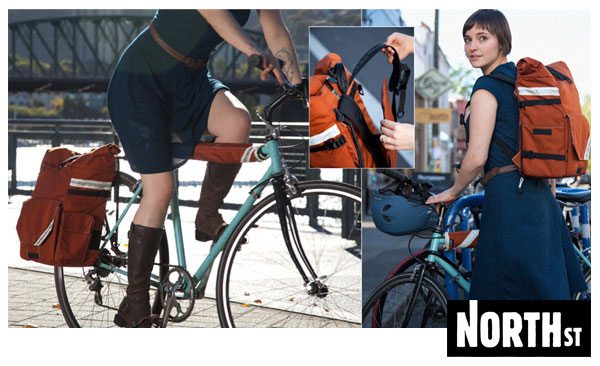 Curtis Williams combined his experience as a theater designer and passion for bicycling to create an innovative product design people can live with both on and off the bike. The company is aptly titled after the street Curtis grew up on in Montpelier, VT; and each product line is named after a street of significance from his life and travels. In October 2009, Curtis discovered some new streets after moving to Portland and setting up shop in the basement of his first home on Woodward Avenue.
Pictured above is the Woodward Convertible pack which switches in seconds from backpack to pannier mode. It has a waterproof liner and roll-top closure to provide a tight seal against the elements. With easy access external pockets and Velcro rows on the inside, it allows you to swap out pockets and accessories as needed.
Curtis explains, "Good design to me is just as much about what's left out as what's built in. We take 'less is more' to heart and don't include a piece or a seam unless it serves a function. When I sit down to design a product, I think about all the ways that item will be used, paying close attention to all the in-between moments. I build for that, leaving everything else out. What's left is a clean, simple design that performs well."
For the back to school season North St is offering free shipping. Head to the website and during check out enter discount code "studentforlife"
QUEEN BEE CREATIONS
Rebecca Pearcy founded Queen Bee in 1996 from a corner in her bedroom. What began as a little project has turned into a thriving company involving the skills and contributions of many talented people. Over the years, Queen Bee has expanded to include Chickpea Baby (diaper bags and accessories) and Rebecca Pearcy Textiles( hand-printed house wares and personal accessories). All of the company's products are manufactured in Portland, at its studio on N. Williams or by production partner Spooltown.
The Sprout Trucker is the largest of Queen Bee's flapped bags. A messenger-style bag, it's great for students, cyclists, parents, laptop-users and anyone who needs a little extra space for toting around all their essential stuff. The Sprout design is one of the most popular, with its simple, understated botanical aesthetic.
Rebecca says, "Portland is a great place to own a creative small business. There is a sense of community among us, and lots of support from people who understand the impact of buying locally. I love to design products that will bring beauty and function to everyday life, and connect our customers and fans to the people and processes that create them."
TRUCE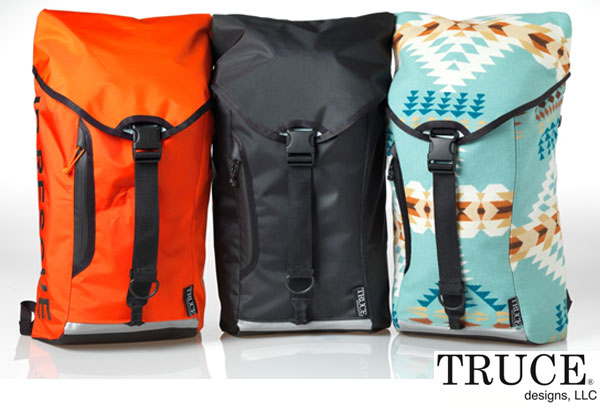 Company founder Luke Mathers originally learned to sew by working at North Sails, where he repaired sails and made boat covers. Truce prides itself on re-purposing high-performance fabrics that may have been otherwise discarded. Recycled sailcloth, waterproof drysuit fabric, and ballistic weaves are reclaimed and assembled with high-quality hardware at the Truce shop. Everything made at Truce is a limited edition.
Luke says Portland is a great place to work because recycled material suppliers are nearby, and it's close to outdoor activities he loves like surfing and snowboarding.
CILOGEAR
An article about backpack designers based in Portland wouldn't be complete without spotlighting a backpack geared towards those who live life on the adventurous side. CiloGear has been named one of America's Best Companies Manufacturing Outdoor Gear. Known for designing bags with extreme durability, CiloGear designs all of its products in-house at the company's St. Johns production center, formerly the Columbia Sportswear factory.
The 60L WorkSack is the standard big pack for climbers visiting the Himalayas, the Cordillera Blanca, and even your favorite local spot in the Cascades. It's also popular with hikers looking for a smart blend of durability, low weight and ultimate versatility.
Owner Graham Williams says, "As a small business owner, I have found that Portland really stands alone in the community spirit shared by the companies in the outdoor space. It's easy to get a recommendation for a service provider, and folks are genuinely helpful."
These five great companies are just a sampling of Portland-based designers and makers in the Athletic & Outdoor industry. Bookmark this site to keep up with the latest A&O company news.
Additional organizations working with manufacturers and makers include:
Portland Made
ADX