Pop Up Portland 2015 in Tokyo is in full swing! The weeklong event is part of a business development mission organized by the Portland Development Commission for Athletic and Outdoor (A&O), maker, and design companies. The purpose of the mission is to increase trade opportunities for Portland and Oregon companies. Participating companies meet with distributors, retailers, media, and consumers in the hopes of securing trade deals and increasing brand awareness in the Japanese marketplace. The Pop Up Portland Spotlight introduces each of the participating companies, their founders, and their experiences so far.
Tell us a little bit about your company:
Egg Press is a letterpress print shop and design house based in Portland, Oregon. Primarily we manufacture greeting cards and tools to aid in keeping in touch. We take pride in facilitating connection.
What is unique about your products/company?
Egg Press was founded in 1999 by Tess Darrow. With a background in textiles, and a love for the tactile, many of our cards have repeat patterns with an impression in the paper you can see and feel. We are known for all over patterns, die-cut message windows, our unique color palette and our wit. Though primarily a letterpress print shop we screen print small batch textiles and have a small line of soft goods.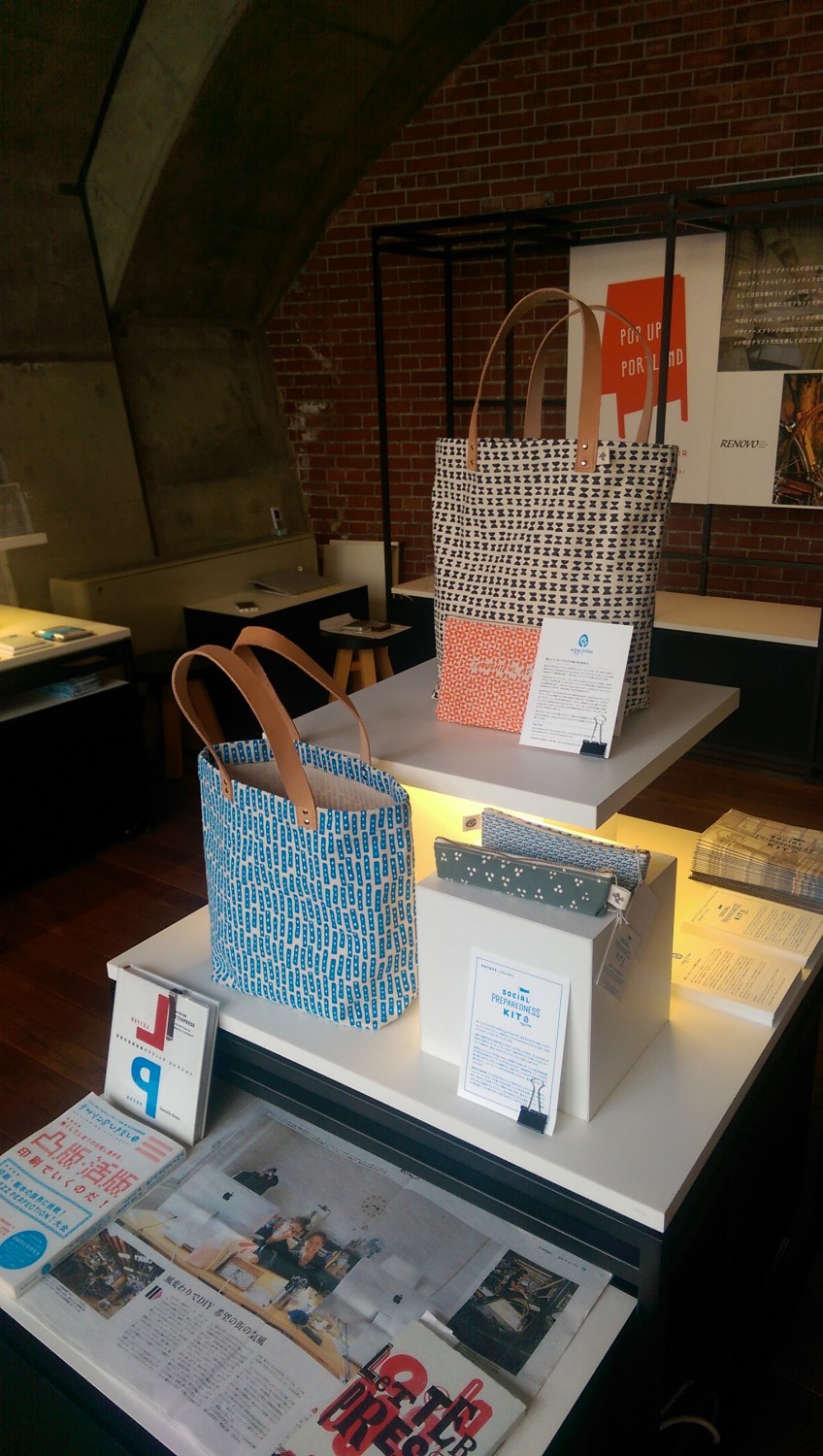 Egg Press products at Pop Up Portland
Is this your first time to Japan?
This will be the 3rd trip to Japan for Egg Press.
What did you do to get ready for this trip?
We worked with a "transcreationist" to help articulate our company's story to the Japanese market. We worked closely with the PDC on printing invitations for the Popup and Vip reception. We made a few new products specifically for the Japanese market.
What about Tokyo do you find the most inspiring?
Tokyo is beyond inspiring! We love everything from the color palette of the garbage trucks to the traditional crafts and attention to detail seen everywhere. We love indigo and textiles, street style and signage. We like discovering new tools for everyday life in the 100 yen store and the lights and noise on the streets from pachinko parlors. There is so much to see and absorb!
How does the business culture differ from Portland's? How is it the same?
Business culture differs tremendously: Relationship building is much slower in Japanese culture, and much more deliberate. There are many more layers and formalities that we are learning. We are finding that once a relationship is formed, things happen steadily and smoothly. Business culture is similar between Portland and Japan in enthusiasm for design, and willingness to take risks when it comes to design.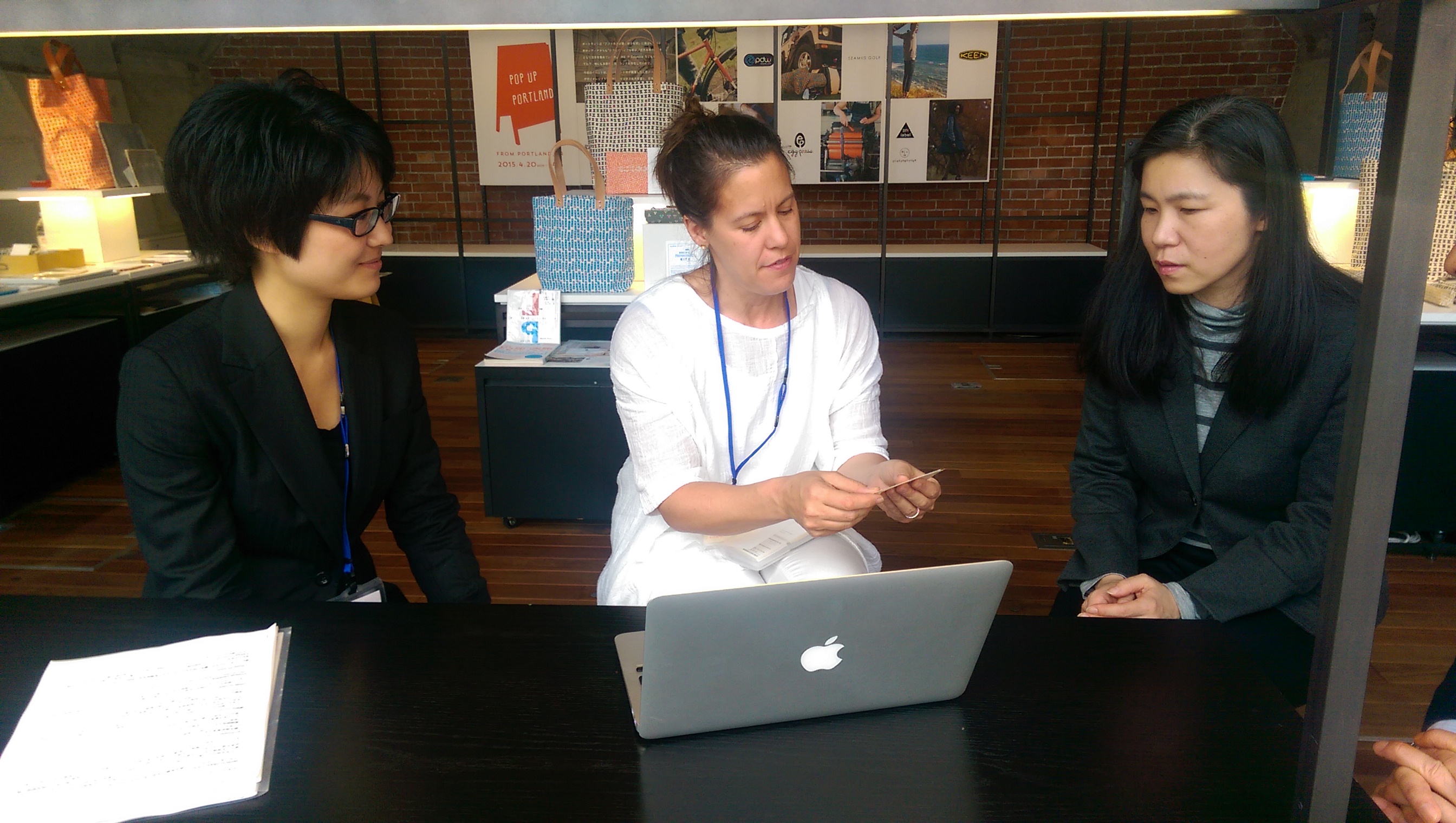 Egg Press founder, Tess Darrow, conducting international business
Why do you think Portland has such popularity in Japan right now?
It seems that both Japan and Portland have a similar design aesthetic. Both places have huge appreciation for hand crafted goods with an emphasis on details.
What are you hoping to achieve on this trade mission?
We are excited to introduce our Social Preparedness Kit to the Japanese market. We are looking forward to meeting new retailers, distributors and potential partners for licensing.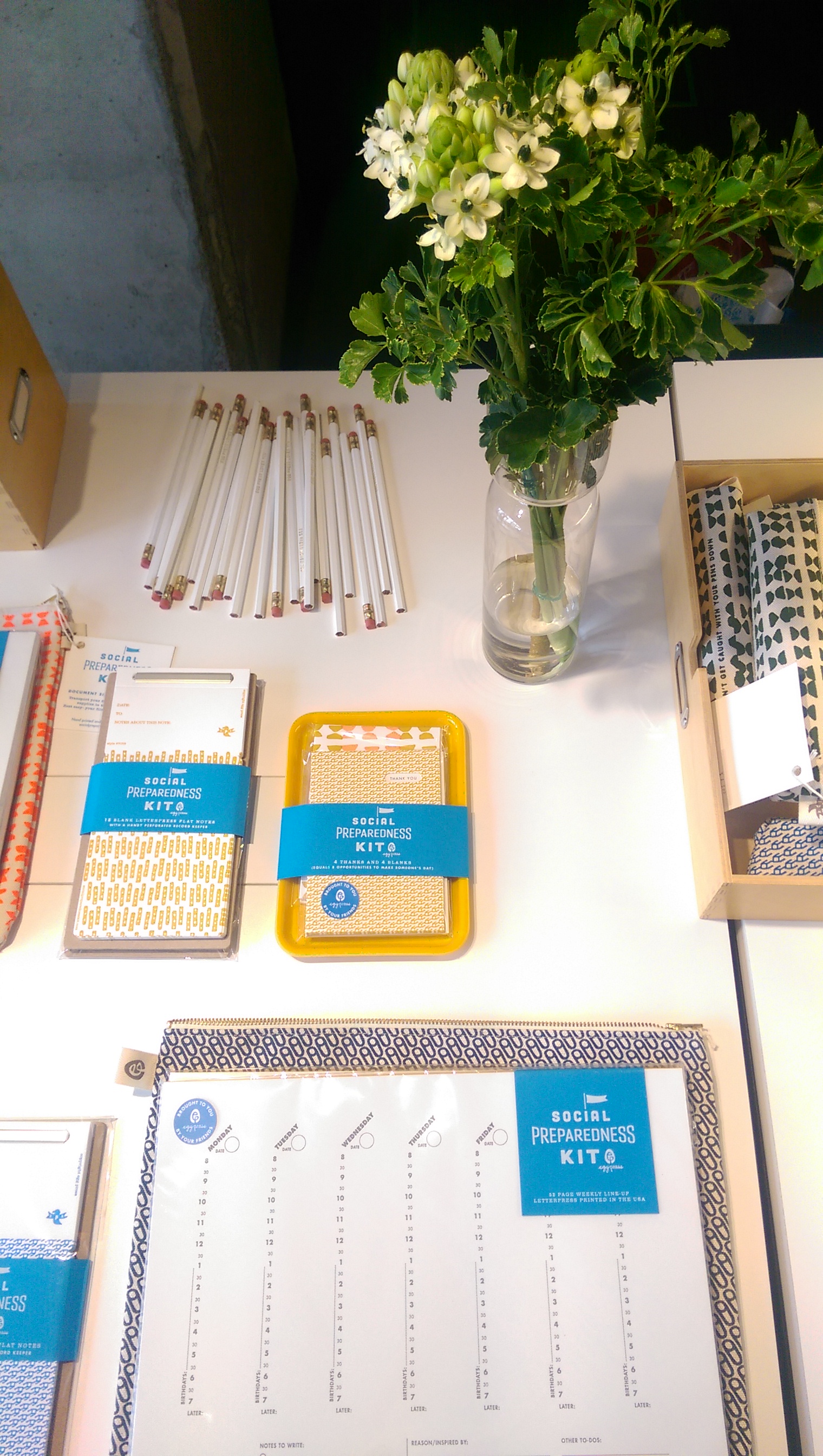 Social Preparedness Kits on display at Pop Up Portland. Pop Up Portland is taking place in Tokyo from April 20-24, 2015 at the Maach eCute venue. For more information, visit http://pop-uppdx.com/ or https://www.facebook.com/popuppdxinjapan