Pop Up Portland 2015 in Tokyo is in full swing! The weeklong event is part of a business development mission organized by the Portland Development Commission for Athletic and Outdoor (A&O), maker, and design companies. The purpose of the mission is to increase trade opportunities for Portland and Oregon companies. Participating companies meet with distributors, retailers, media, and consumers in the hopes of securing trade deals and increasing brand awareness in the Japanese marketplace. The Pop Up Portland Spotlight introduces each of the participating companies, their founders, and their experiences so far.
Founder: Dan Powell
Year Founded: August 2008
Tell us a little bit about your company:
Portland Design Works creates beautiful simple gear for everyday cycling. Designed with intention in every detail, Portland Design Works products are produced in consideration of cost, aesthetics, durability and rebuildability. Since 2008, we've been developing gear that urban cyclists would want to use for any and all of their rides. Having launched with only a handful of grips, we've expanded to offer over 50 different products to make city riding comfortable, safe and convenient.
What is unique about your products/company?
Our vision is to create gear that excites cyclists to ride and ride more often. That's why we make products that not only work great but are a bit of fun and flair too – like the charm of a bird-shaped bottle cage offers. We proudly stand behind that vision and every product we produce. After all, we're using PDW gear ourselves.
Is this your first time to Japan?
No, this will be my third visit to Japan. My first visit was a back packing trip to Hokkaido last summer. I was also here in Tokyo last November for a bicycle show, and a cyclocross race down in Chiba.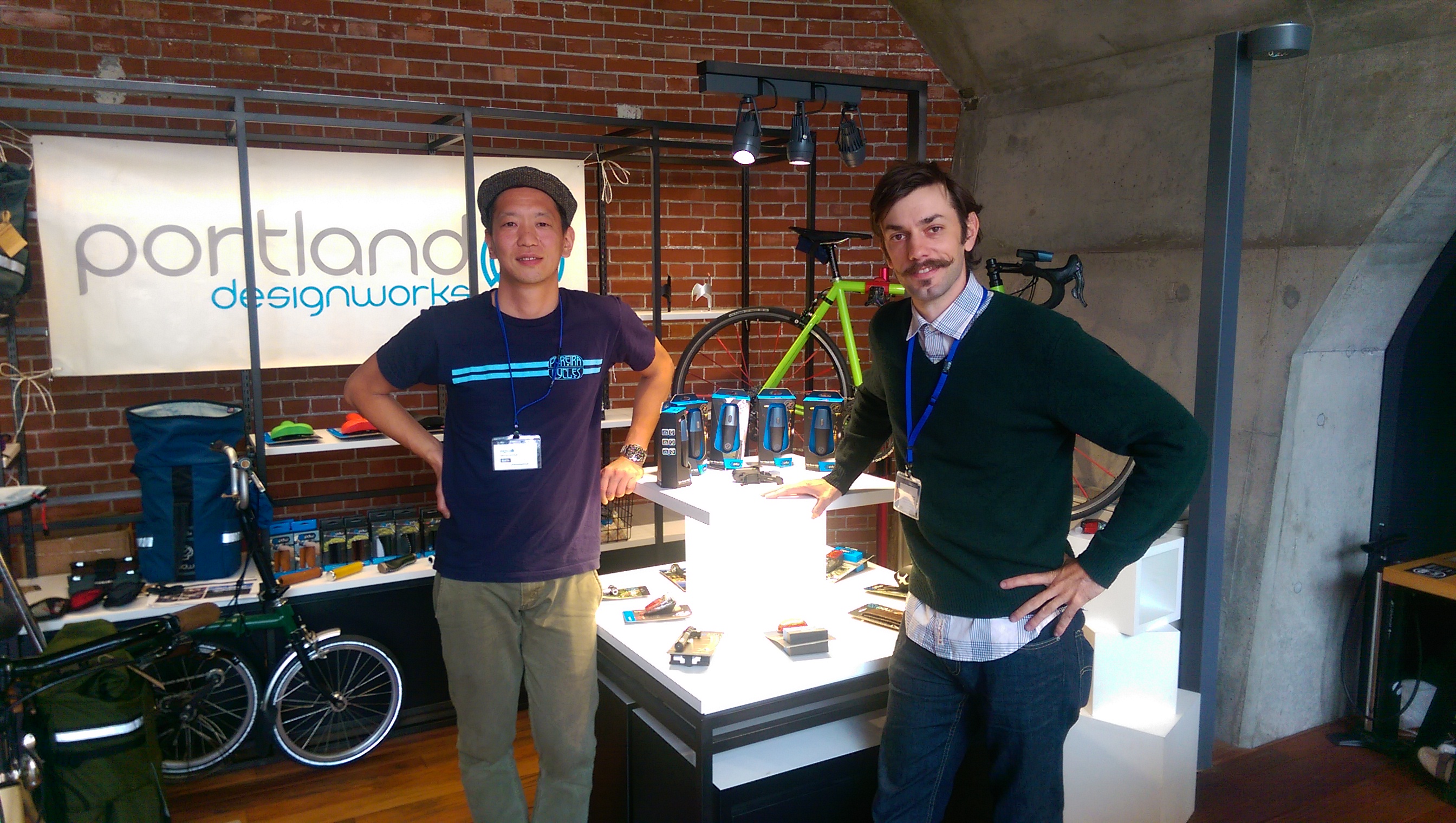 PDW founder, Dan Powell (right), and his Japanese distributor, Teisuke Morimoto
What did you do to get ready for this trip?
I actually read a couple of travel books about Japan, and I've been following a few blogs.
What about Tokyo do you find the most inspiring?
The Tokyo Metro is mind blowing in scope and in how smoothly it runs. The density of the City, along with it's varied architecture styles is wonderful.
Any favorite shops here?
Blue Lug, because it's a great collection of cool bike brands from all over the world all in one place and it's a center for Tokyo bike culture. It's a place I've wanted to visit for five years.
How does the business culture differ from Portland's?
Portland is pretty laid back, DIY and sometimes goofy for the sake of being goofy. Japan feels a bit more traditional, and a bit faster paced.
How is it the same?
I believe both places to be authentic, and both are trend setters.
Why do you think Portland has such popularity in Japan right now?
I think this comes back to my previous answer a bit, authenticity and trend setting. Portland does it's own thing, and I think that type of work/life balance is aspirational for sure. I also think maybe the ideal of a slower, more deliberate life (a good cup of pour over coffee, a locally sourced meal, a hand made boot/bicycle/bag, chickens in the back yard) are all things that are attractive.
What are you hoping to achieve on this trade mission?
I'm looking forward to a better understanding of Japanese culture and tastes, some additional business contacts and maybe some new Japanese friends!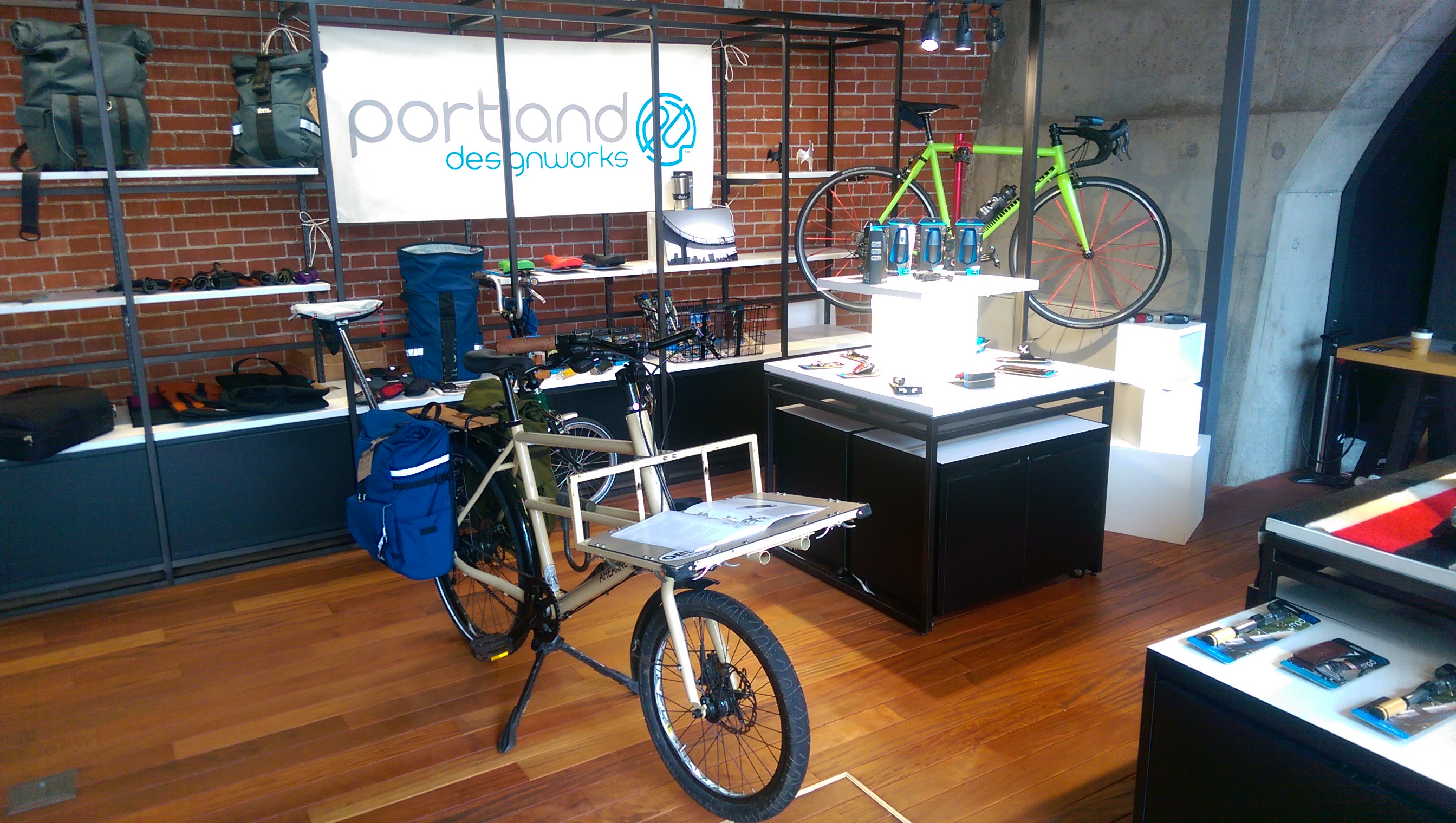 Pop Up Portland is taking place in Tokyo from April 20-24, 2015 at the Maach eCute venue. For more information, visit http://pop-uppdx.com/ or https://www.facebook.com/popuppdxinjapan