The A&O Spotlight showcases Portland based brands and the people that make all the magic happen.
This month's spotlight features Sara Tunstall, co-owner of Spooltown.
Sara talks about Spooltown's move to the Produce Row neighborhood, Portland Design Week, and the maker movement in Portland.
SARA TUNSTALL // CO-OWNER // SPOOLTOWN
Company Story //
Can you tell us about your business and how you got started?
Spooltown is a small-run sewing factory. We do private label manufacturing for over 50 clients nationwide, specializing in non-apparel soft goods production. We operate out of a great 5,000 sq ft production facility in inner SE.
I started the business 2 years ago. I had worked for years at Queen Bee Creations, a local handbag manufacturer, running production. I suspected that there was a market for private label manufacturing in and around Portland, and was surprised to see how quickly our clientele grew beyond companies based in the Northwest. Queen Bee is still one of our biggest clients, and we're grateful to have such an amazing working relationship with them.
What products and services do you provide?
The bulk of our business is small-run sewing production. We do product development for new products (material sourcing, pattern-making, and sampling) to get them up to the production stage. We also offer fabric cutting as a stand-alone service.
How big is your company?
We're currently at 17 employees, and are on track to be at 20-22 by the end of next year.
What were some obstacles you had to overcome in the process of growing your business?
Our biggest obstacle this year has been space. Our first location was about 800 square feet, and by the end, we had 13 employees there. We definitely needed more elbow room, but it's tough to find affordable production space in inner PDX, so it took a while.
What about your greatest successes?
In February, I took on a business partner, Dana Hinger. She's been a tremendous asset as we navigate through these booming growth years. That was my first major success.
But also, sometimes it's the little things. For me, I think it was the look on our employees' faces when we took them to our new space. That moment solidified the team, and it suddenly seemed possible to deal with the growth we were holding back.
Around The City //
You chose to move from North PDX to the SE Produce Row neighborhood, what attracted you and what do you like about working in the neighborhood?
Southeast is close to everything that we do and still has a little bit of a gritty working feeling to it. We're East-siders at heart and Produce Row is developing a great design base that we want to stay close to. Plus, it feels like a real working neighborhood. It's less polished than our last location on Williams, but there are so many great businesses down here doing incredible work. It's good to be surrounded with your people.
Supply-wise, we love Winks Hardware and Kruger's Supply on 7th. There are so many businesses that have been around a long time that help support what we do. I mean – we have THREE industrial caster shops in town. It's like nerd paradise.
Any exciting news or events coming up?
Yes! We have a few events coming up for Design Week Portland:
On Tuesday 10/8, we're giving a presentation on Designing for Production. That event will be a sort of orientation to working with a factory – what you need to know to get a product production-ready. That event starts at 7:30, and you can RSVP through our eventbrite page: https://spooltown.eventbrite.com/
On Friday 10/11 from 4-7, we're having an open house! Come see production in action. Our team will be sewing until 6, and we'll be making giveaways for the event.
Besides your own, what Portland companies do you think are doing exciting work/design?
Personal design favorites: The Good Flock for bags and accessories, TiroTiro for amazing jewelry, Caravan Pacific for the loveliest lamps. I'm also a big fan of the work that Terrazign does. They're a maker's dream.
What are the advantages of being based in Portland?
Portland is the logical choice for makers. Design-wise, the city has grown beyond its crafty roots, and people are taking notice nation-wide. It's energetic, people aren't afraid to try new ideas, and makers are honing their crafts here. To me, it's a no-brainer. Most cut and sew operations happen in warehouses outside city limits because that's where space is affordable. But the social change aspect of American manufacturing (getting people to pay more for a product they can really believe in) only happens if you make it visible. That's what Spooltown is all about.
Across industries, people here are trying new things. It's more acceptable to try and fail than to not try at all. And that's a great culture for innovation. Also, thanks to Portlandia, people are making fun of us. That may sound trite, but it helps put us on the map and makes the serious businesses stand out.
Do you collaborate with any other companies in the region?
One of our favorite things about being in business in Portland is working with so many great local companies. From working with our amazing clients to businesses in the design community, to industrial supplier in NW industrial, we love the relationships that we have around town.
One of my favorite ways that we've partnered with folks is by creating a program to make bags out of banners that have hung around town. We have some stock styles, and we've made totes for Oregon Food Bank, Pioneer Courthouse Square, Habitat for Humanity, Portland Farmer's Market, Red Hook Brewing and more! It's a great way to reuse those giant banners would otherwise be tossed, and we get to work with great folks too!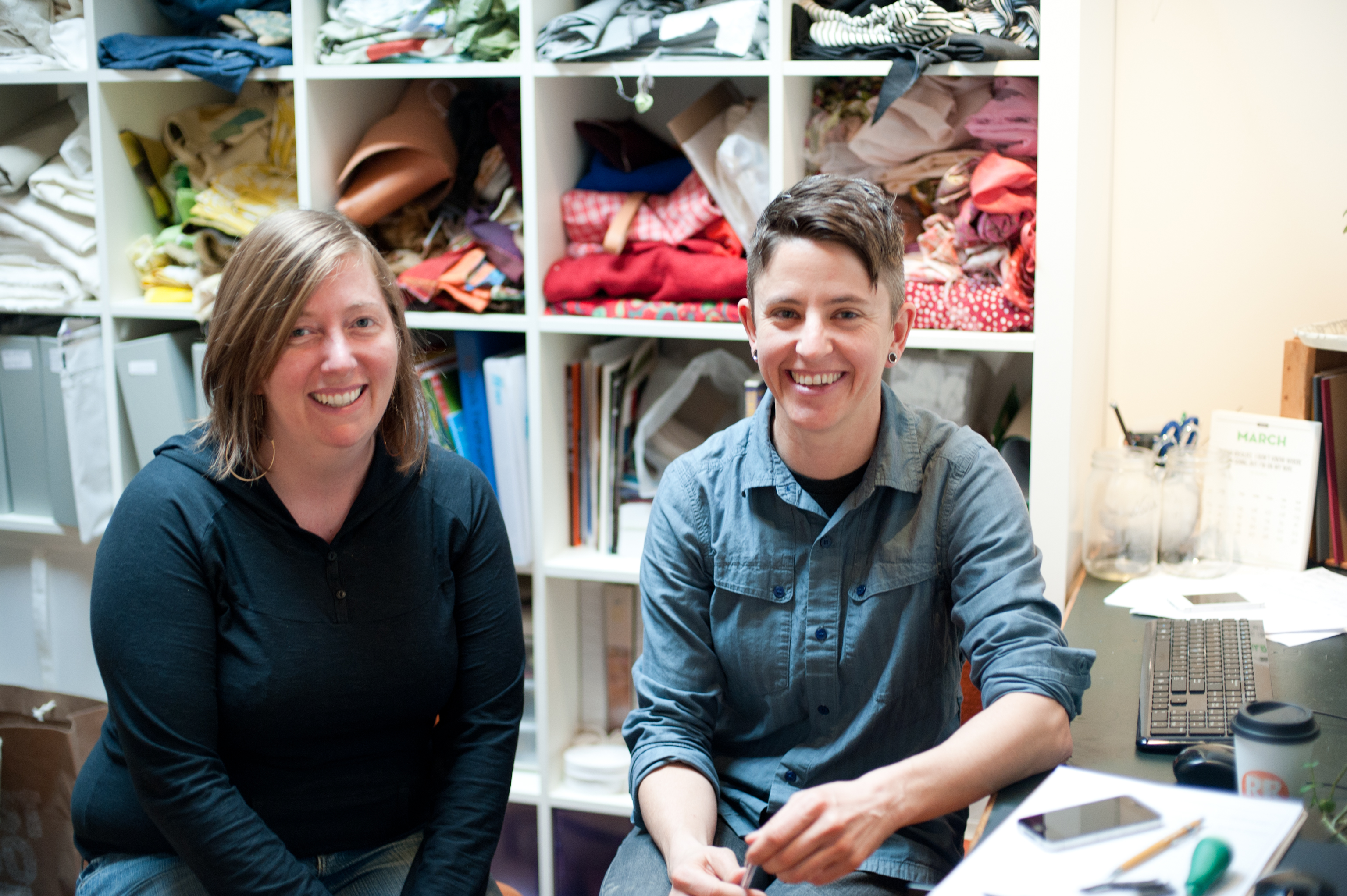 Sara Tunstall and Dana Hinger of Spooltown
————————————————–
Spooltown is located at 2029 SE 9th Ave. Portland OR 97214
For more information, visit www.spooltown.com