TOUGHER has been in business for 2 years and has 1 employee – Founder & CEO Stacey Gose. In their 2 short years, TOUGHER has been named one of 15 Businesses to Watch in 2018 by Portland Business Journal. She also recently won, by audience vote, Portland A&O's In the Running Pitch Competition in partnership with Prosper Portland and Oregon Angel Fund. It that wasn't enough, she launched a Kickstarter campaign to help fund their new Groundbreaker Work Pant and it was fully funded within 6 days!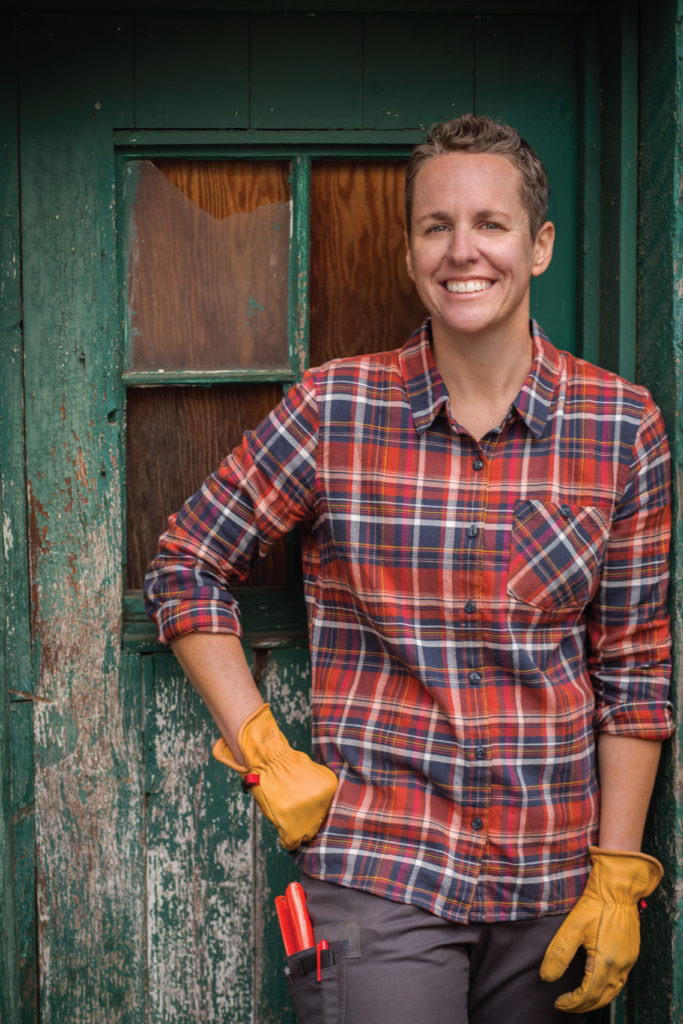 So what is TOUGHER? We recently caught up with Stacey to learn more:
Tell us a little bit about your company:
Coming from a long line of female farmers and spending summers on my family's farm in Iowa, I saw women struggling to find appropriate workwear. Farming, like other trade industries, is still considered "men's work," leaving millions of women in these fields left to fend for themselves to find appropriate workwear. As an avid backyard farmer and DIYer today, I personally grew frustrated with needing to buy and modify men's workwear or settling for less durable women's workwear, which also always seemed to have a daisy stitched on it or came in Barbie colors.  
I spent a year interviewing hundreds of women and realized that there was an industry-wide gap for women in professional trades and those who identify as DIYers seeking proper workwear. The majority of women I interviewed reported safety hazards created by duct taping, hemming, or otherwise adjusting men's workwear they purchased. It was simply not acceptable to me that in 2017 women workers were wearing clothes not sized for their bodies.
From a safety and social equity standpoint, my path became obvious: create a brand of workwear for women that ensures they won't have to sacrifice safety, fit, durability, or style anymore. In that moment, TOUGHER was born.  
What makes your product unique? 
For so long, workers have equated durability in apparel with uncomfortable, heavy fabrics like duck cotton. I was fortunate to work with a group of brilliant women from different aspects of the apparel industry on the development our Groundbreaker Work Pants. From that collaboration, our Groundbreaker Work Pants weigh over a pound less but are twice the strength of a major competitor's work pants.
Our fabric with stretch is also soft, breathable and has a water resistant finish, which is key for the wet conditions here in the Pacific Northwest. We think women will also love the deep pockets that can be loaded up with tools, as well as our hidden double knee for extra durability in high wear areas.  
The past couple of months have been pretty exciting for TOUGHER between your Kickstarter being fully funded and this pitch competition, what are you looking forward to in the next couple of months? 
Next steps are fulfilling backer orders through our successful Kickstarter, which ends on January 4. We also have a clear idea of what products women want next for work or their craft, and so my focus will be securing the financing necessary to bring additional long sought-after products to the marketplace. Stay tuned on what product we'll reveal next!
How can we continue to support you and TOUGHER? 
Whether or not someone is likely to personal use TOUGHER's products, sharing our story with others who might enjoy them or who may support our mission is paramount. I can't tell you how often I hear from women who are excited by what TOUGHER has to offer because a friend, colleague or relative recognized the benefit of supporting the women in our communities who are builders, makers, growers, and doers.
Why did you enter the In the Running Pitch Competition? What were you hoping to get out of it?
A mentor sent me an announcement about the competition knowing that I was seeking capital and enjoy connecting to new groups. When I read about A+O's focus and the opportunity to pitch to athletic and outdoor enthusiasts, business leaders, and investors, I was really excited to get before this audience. I applied a month before the application deadline. I was that enthusiastic.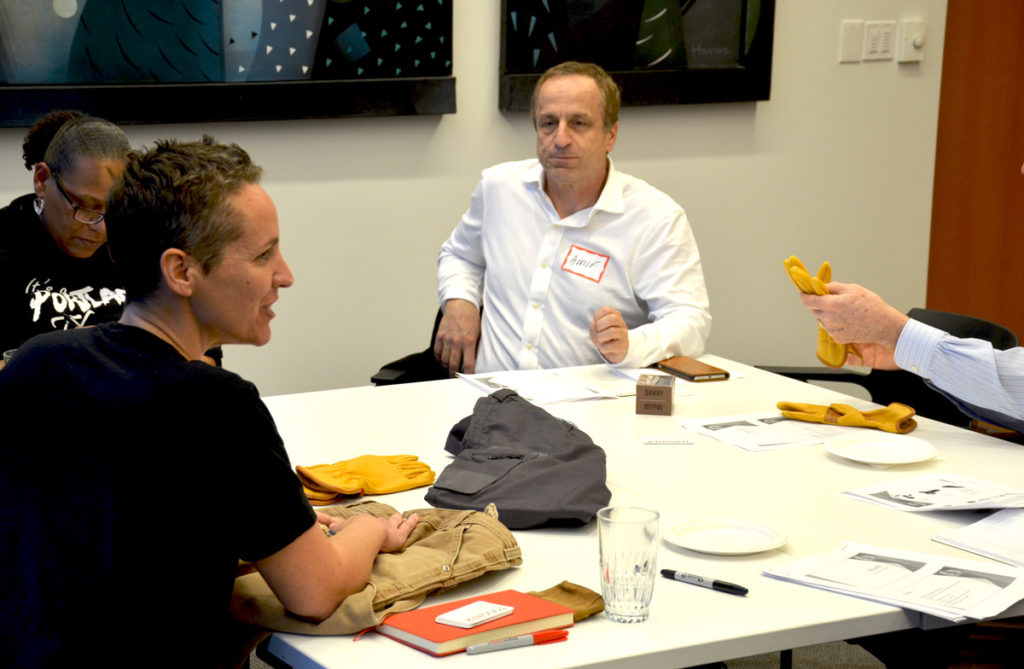 What did you learn from Oregon Angel Fund? 
Oregon Angel Fund (OAF) represents investors from diverse business backgrounds, from tech to consumer goods. However, common values cut across all industries as to whether to fund a startup or not. It was abundantly clear that OAF investors value the customer's experience with a company. Information, such as whether you have repeat customers, what feedback are you receiving from purchasers, and so forth, was commonly sought after by all investors.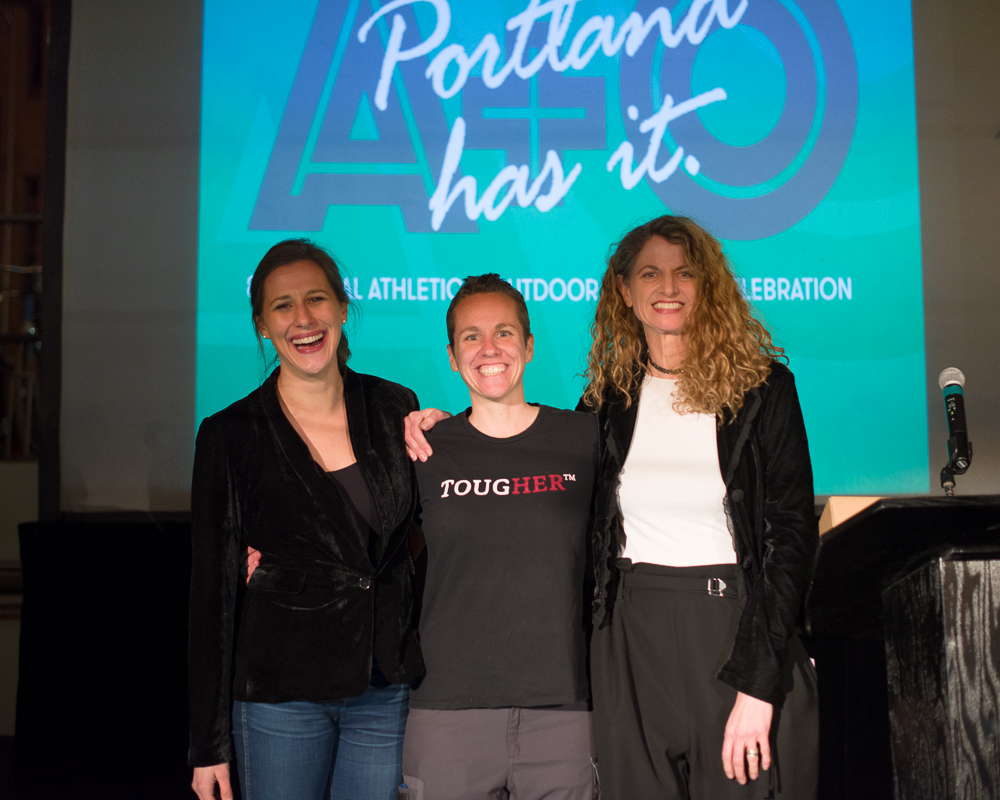 Photo by Erica J Mitchell
What was the best part of being part of the In the Running Pitch Competition? 
Interacting with the audience is always energizing for me. You receive immediate feedback as to whether people believe in your company's need to exist, what value you are adding.  
It shouldn't surprise me since I've lived in Oregon for over 14 years, but every time I compete here I am reminded of how collaborative and supportive people are – even among competing companies in pitch competitions. Much like Oregon's wine industry leaders, I think many of us in business have the mindset that a rising tide lifts all boats. If we support one another, all of us benefit more than striking out on our own. I was touched by all the people who offered help in connecting me to resources that can help TOUGHER reach more women in need of high-quality workwear made with women's needs in mind.
What advice would you give someone looking to start their own company or product line?
Get involved with the local startup community. You will meet fellow founders that are in the trenches alongside you to relate to, as well as connect with successful leaders who want to pay it forward and help the next wave of startups succeed.
What advice would you give a fellow female/minority entrepreneur?
Don't let the dismal percentage of venture capital going to women and minority-founded companies (7% to female founders; 0.2% to Black female founders; less than 1% to minority-owned businesses) dissuade you. Oregon is slowly waking up and recognizing the positive economic impact female and minority-led companies have.
From people like Stephen Green who mentors and founded PitchBlack, a platform that helps African-American entrepreneurs to connect with each other, to firms that invest in under-served entrepreneurs like Elevate Capital, to the all-female investment group Pipeline Angels, we in the startup community are becoming the leaders and champions we have been waiting for. It's an exciting time, despite what the national investment picture may look like.
Where else do you go for support and advice for your company and/or product line?
I go to the source that matters most, the women we serve. They guide the decision on what we need to provide as a brand home for them.
---
Congrats to Stacey for winning the In the Running Pitch Competition at our 8th Annual Industry Celebration. If you want to share your story with our Portland A&O Community, submit your story today!