Ginew is the only Native American denim brand in the world. The collection is the joint vision of husband and wife owners, Erik Brodt and Amanda Bruegl.
Last year, Erik was one of the panelists and Ginew was one of the vendors at our summer event, Native Creatives. We loved hearing about how they integrate personal and family stories into each piece they create and the nuances of their international audience so much that we wanted to get to know their brand even better: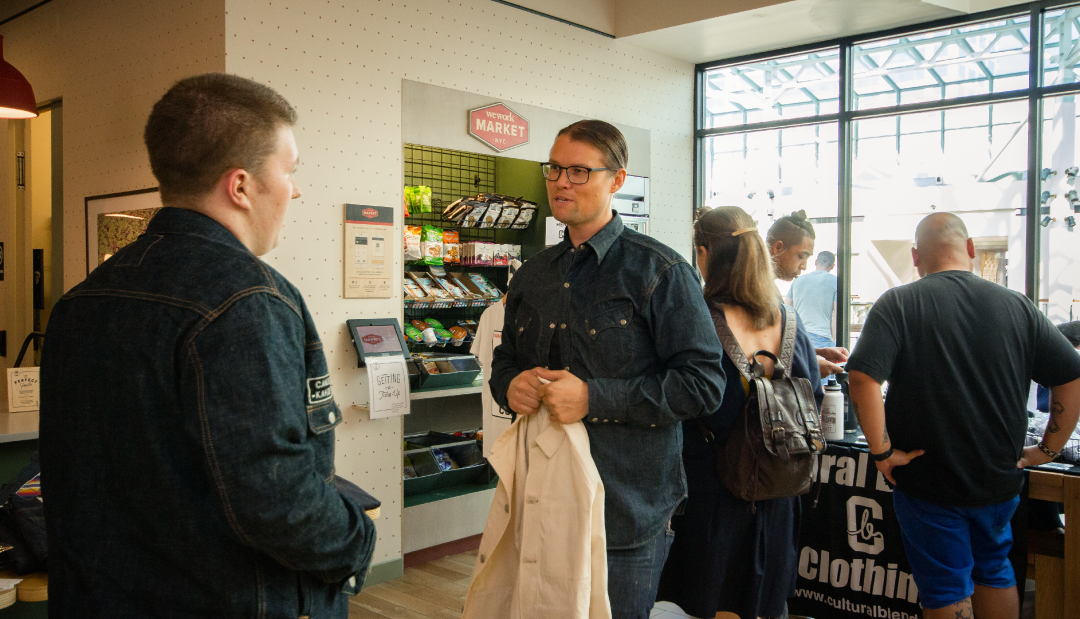 How did Ginew get started?
Ginew began in 2010 when we made belts for members of our wedding party from the buffalo hunted by my father. The move into apparel began with too much coffee one morning at El Cosmico in Marfa, TX. Amanda and the dog stayed in bed a bit longer, as it was unseasonably cold that morning. I wanted a coat with particular design elements which incorporated elements dear to him and extending from his family roots. We made a few quick sketches on a napkin, then a series of phone calls, a small run for friends and family, then picked up happenstance notice by the folks at Clutch Collection and Lightning Magazine in Japan. We continue to add items to the collection annually, usually a handful of pieces, all of which we are proud of.
The common thread behind Ginew is our vision to express our Native American (Ojibwe, Oneida, and Mohican) heritage and family stories. Ultimately, Ginew sounds an authentic, contemporary Native American voice through the collection and style. We love that we get to express our family story — past, present, and future — through the garments we get to wear each day. It is so much fun to work together on ideas and see them come to life.
What is the most challenging and/or surprising part about your company or products?
One of the greatest gifts of Ginew has been the world it has opened to us, the friends we have made, and the experiences we have shared across the globe.
Living, working, and being in the high quality garment realm has introduced us to a world of creative, genuine, and altruistic people. Getting to know each of these people through our work with Ginew has enriched our lives.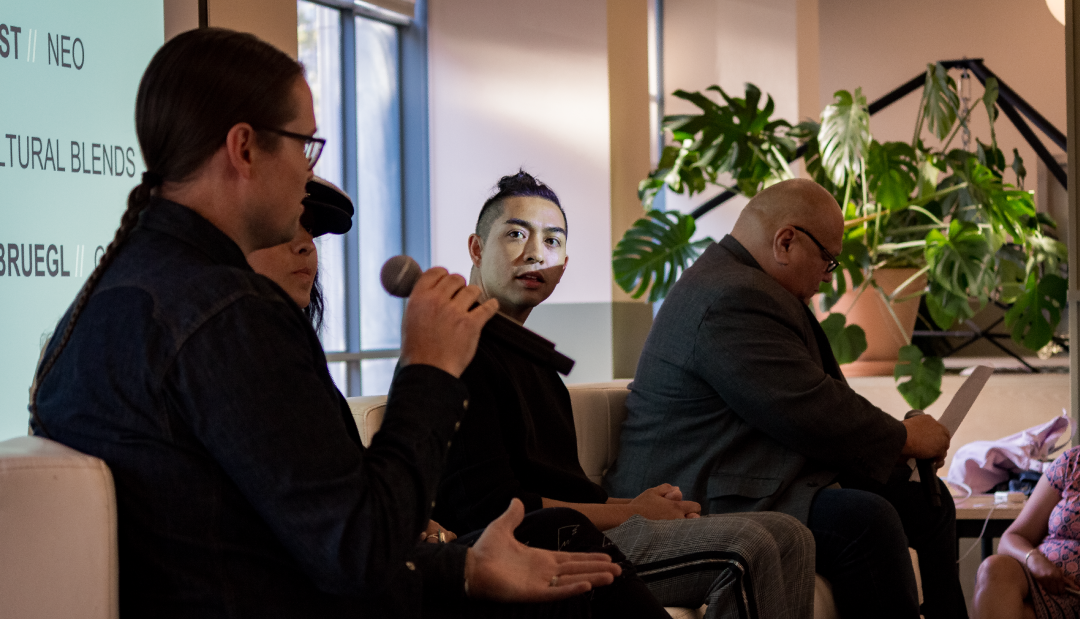 How do you go about developing your products?
Often the development process begins with an idea or story of a family member, whether it is a pivotal life moment or reminiscing about an event that involves that family member. We think through that family member, about their life, career, attributes, and any key elements of the story.
We also make sure to be keenly aware of how we can incorporate elements of our culture, history, story, or traditions into each garment. Often times there are elements which are deeply unique to us, rooted in our being, that we include in the items. Elements which truly span generations of teachings and things we hope to pass on in our family.
What is your big vision for the company? 
Our biggest vision for the company is to continue to grow and share our story through seasons of our lives. We see the company constantly improving in quality, efficiency, relationships, and how we share our story.
It is not easy to manufacture in the USA and we feel investing in this over time will be a positive experience, both in the short and long term. We aspire to make things which are timeless and long lasting and we aspire to help others think beyond stereotypes of Native American people by telling our story – which is a contemporary Native American experience…seen through the past, present, and future. We want people to realize there are Native American people in fashion and that a Native American collection can accurately and authentically represent our experiences.
We love that we are able to work with Pendleton to weave our wool blanket fabric. So much fun to work with a heritage company…perhaps we will become a heritage company one day.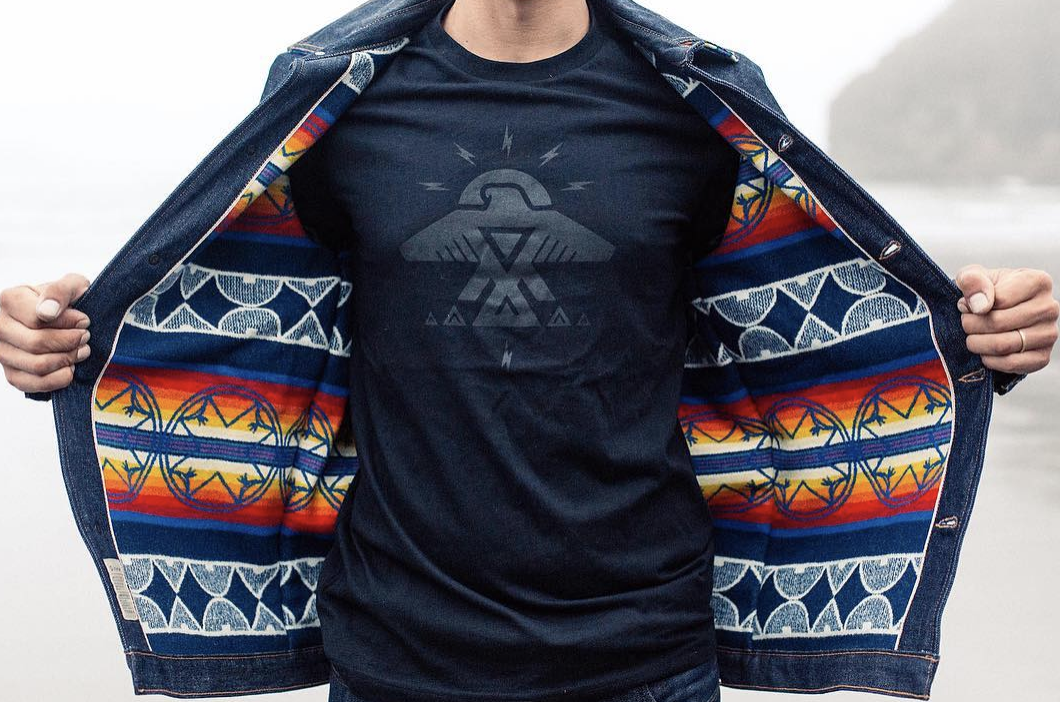 What fellow Portland A&O companies do you find interesting or inspiring?
No End of Design is so inspiring! It is a treat to encounter other Native brands who are exploring the same concepts and ideas as we are, but then coming up with an entirely different result. We each have a unique way of expressing and incorporating our cultures in each unique collection. We find this evident in Palani's work.
What type of support have you gotten from A&O in Portland? 
The Native Creatives event at WE WORK was a positive experience and a forum where we were able to share about our selves and collection in a safe, comfortable, and creative environment. It was powerful to have representation from top brands and companies in the Portland area show up to ask deep, sincere questions about our respective collections.
What do you find challenging about having a company based in Portland?
We have found that most of our sales are outside of Portland. It feels like we export our collection to other large domestic cities, rather than have people in Portland wearing our collection. There are elements of small scale production which do not currently exist in Portland. Thus we need to travel to other cities to have some of our items produced.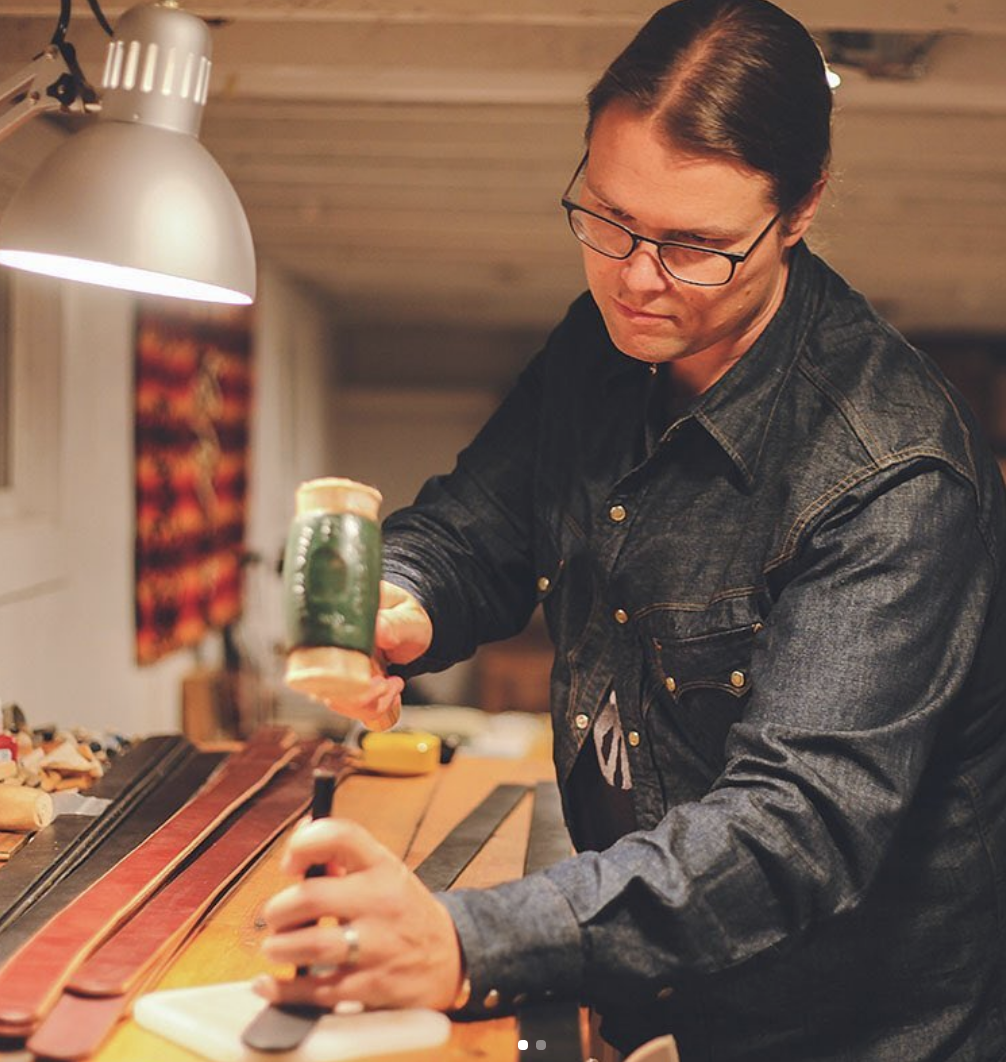 What do you find rewarding about having a company based in Portland?
The creative and collaborative environment in Portland is second to none. The creative energy in our neighborhood alone has been a delight, while simultaneously driving our success/improvement.
How do you feel Portland influences your products?
Definitely encourages continued use of wool, wax canvas, hats, and BLACK DENIM.
What advice would you give someone looking to start their own company or product line?
Stay true to your vision. Follow your own compass. Be/get organized. Schedule quarterly sessions to set and review goals. This has helped us realize our own growth.
I would also recommend re-visiting your business plan every year, adjust where needed, and remind yourself of your vision.
What advice would you give a fellow entrepreneur?
Get a bookkeeper sooner than later! Realize where there are ways to bring on someone's expertise in order to save you LOADS of time… time that you could be using to improve the collection, grow a partnership, or create something new.
---
Native Creative images by @iamirvine
---
Portland A&O powered by Prosper Portland aims to support the success of Oregon's 800+ Athletic and Outdoor firms through community, peer-to-peer learning, events, and programming.
Portland A&O Community monthly features are our way to highlight the different stages of entrepreneurship, innovation and breath within Oregon's impressive A&O industry. By sharing stories, advice and experiences, we can continue to support the industry and the people who make it thrive.
If you have a product, company or personal story to be featured, share with us!