Athletic & Outdoor Young Professionals (AOYP) is changing. What started as an idea to connect and support the talent entering and getting started within Portland A&O has grown into a thriving program that connects us through our shared passion.
After 5 years, the committee reflected on how we could be more inclusive to more people, professions, and industry niches. Our group welcomes all A&O professionals – not just those entering the industry nor those who work within a specific area of A&O. Whether athletic, outdoor, consumer goods, fashion, gear, apparel, technical, crafters, makers, marketing, accounting, intern or seasoned thought leader, we are all here based on a shared interest, desire to learn, learn and grow ; and we needed a new name and look to reflect it.
Therefore we are now called AOP, dropping the 'Y" from the name to ensure this group serves all professionals in this industry. With the new name, we also needed a new look and mission.
During the Outdoor Responsibly Annual A&O event, the committee announced the new name, logo and mission statement.
Logo: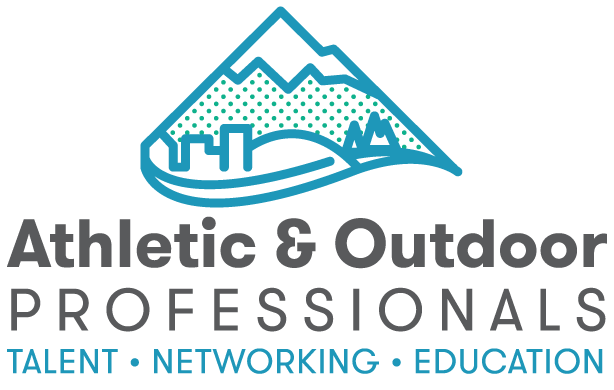 Mission:
To connect, highlight and support professionals in Portland's Athletic and Outdoor industry through informative, inspirational, and inclusive events.
"Being the collaborated bridge for the athletic and outdoor communities here in Portland has been the mission for AOP. The new logo and growth of AOP is more important now than ever before to bring the outdoors and our business community together." – Scott Wanhala, AOP Committee Member
Thanks to our Committee:
Our mission and events are executed thanks to our dedicated committee members. Not only did they help to ideate and coordinate our events, but are passionate about the Portland A&O community.
Thanks to our marketing team KEEL Creative, who designed our fresh new logo.