9 fascinating Portland based fall finds for surviving the gray, rainy weather.
Whether adventuring to Silver Falls to experience the changing leaves, biking around the city to meet up with friends or watch a Blazers game, or staying inside to binge watch a new series, there are plenty fall products to assist you in enjoying the season. With over 800 A&O firms like Nike, Columbia and adidas, many of those fall products are made, inspired by, designed or tested in Portland.
We are highlighting a just few of our favorites here. But let us know what your favorite Portland A&O fall products are! Share with us on Twitter or Instagram with #PDXAOfall
Pictured clockwise from top left: Seek and Swoon Envie Throw ($165); BlaqPaks 10th Anniversary PDX bag ($188-$218); Brooklyn Tweed Galloway Colorwork Cardigan Pattern ($9); Grafletics The Game On Cap in Heather Gray ($36); Sorel Women's After Hours Chelsea Boot in Beach ($170)
1. Keep Warm and dream of warm winter vacations with Seek and Swoon's Paris-inspired Envie Throw (pictured top left). Made from 75% recycled cotton and 25% recycled polyester, these throws are inspired by owner/designer Jala Smith-Huy's travels around Europe with her husband and two young kids. Not only are they beautiful, but they are breathable, cozy and machine washable — making them perfect for in the house or for adventures like an impromptu trip to the coast.  Starting early next year, you'll find this throw on every bed in the Jupiter Hotel's expansion – Jupiter NEXT.  With this throw in your house you can take pride in supporting a small, women-owned, American business who cares about the planet and whose mission is to inspire adventure and travel.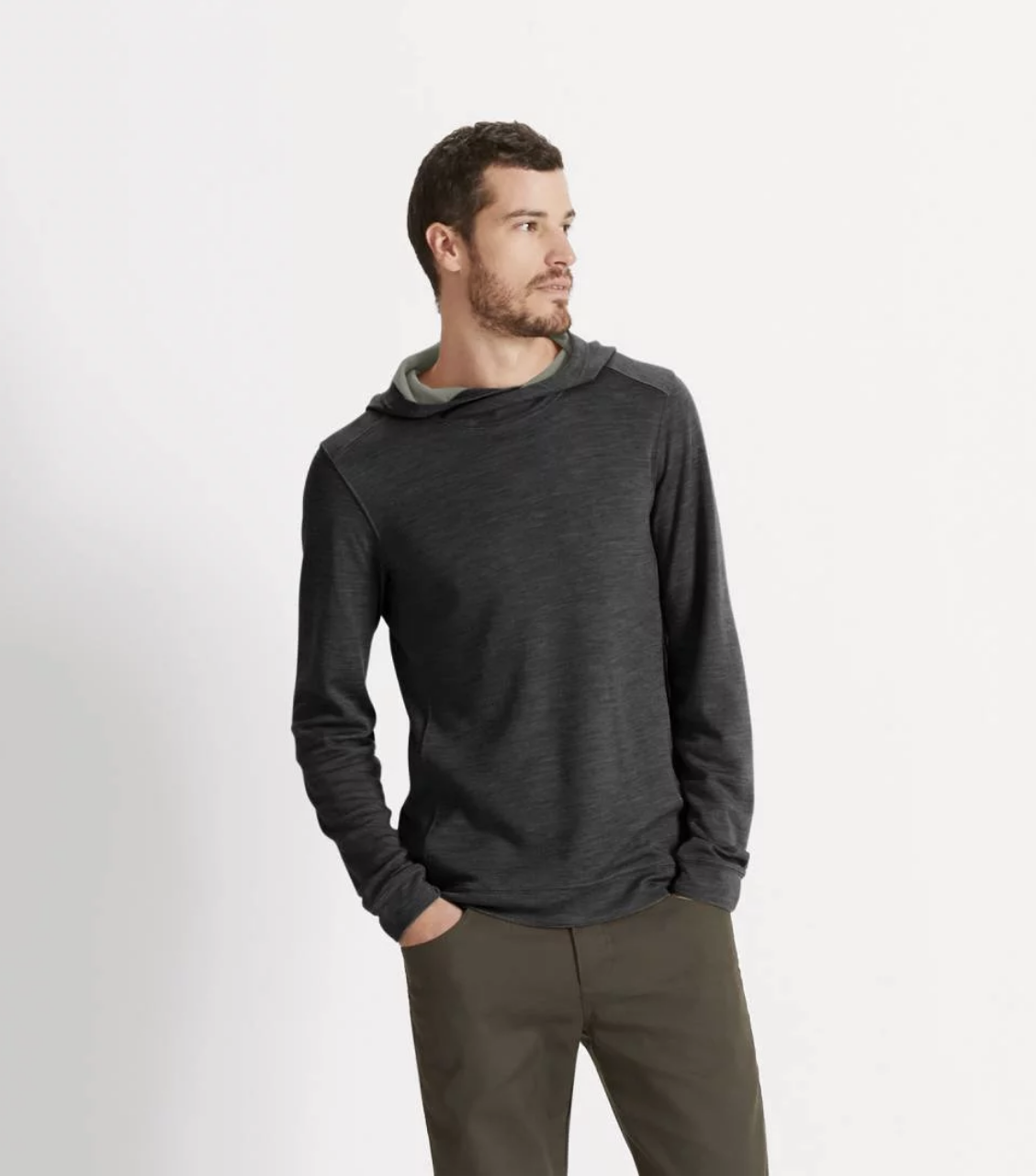 2. Bundle up and enjoy Sweater Weather with essential fall layers made from Nau like this Randygoat Lite Hoodie (pictured in Caviar Heather, $125). Made with recycled polyester and merino wool, this versatile layer is breathable, with a bit of warmth perfect for a fall hike.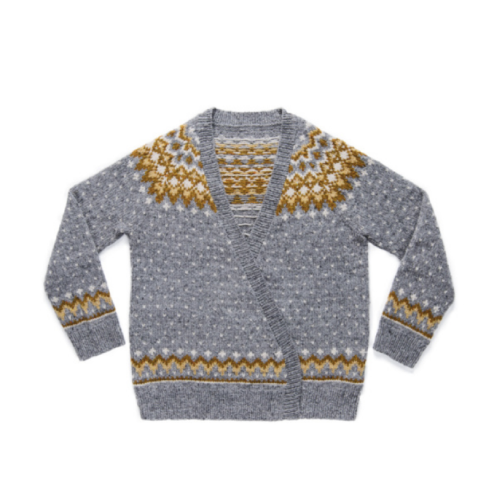 3. Bundle up and knit a sweater with the Brooklyn Tweed Galloway Colorwork Cardigan (also pictured above, bottom right) pattern ($9) using their Shelter Wool yarn ($13/skein). This Scandinavian-style colorwork cardigan designed by Brooklyn Tweed owner/designer Jared Flood, infuses a pop of bright color to keep you interested while knitting it and wearing it.
4. Be seen with Showerpass's Odyssey Jacket ($179) featuring their MapREflect fabric, a new reflective print technology that illuminates for maximum visibility as headlights approach. The jacket also has a box fleece lining and a 3-layer waterproof and breathable softshell fabric that provides stretch and flexibility.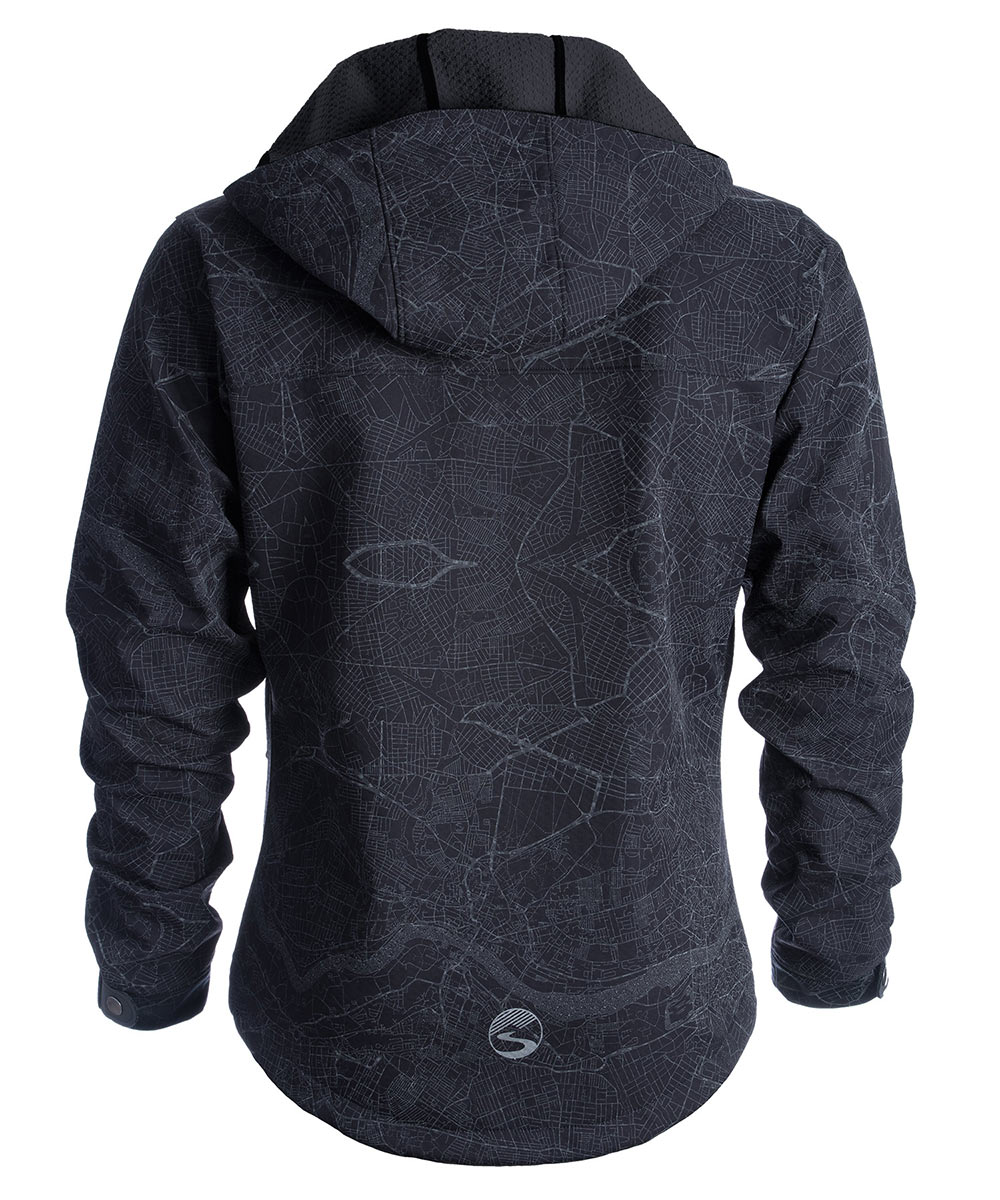 With the help of Geographer Oliver O'Brien, Showerpass spent hours connecting the street maps of their favorite cycling cities around the world to create the artwork that would be printed on this jackets.
Because of the placement of the print, no two jackets are exactly alike.  Each jacket features some parts of Portland, New York, Washington DC, Paris, Barcelona, Amsterdam, London, Newcastle, Berlin, Sydney and Taipei.
The jacket also features zippered hand warmer pockets with micro fleece lining to keep hands toasty when the weather drops. The oversized hood fits over most helmets and features a drawcord and double toggle cinch at hem for a snug fit when riding. An audio port in the inside chest pocket allows for easy access to tunes when on the go.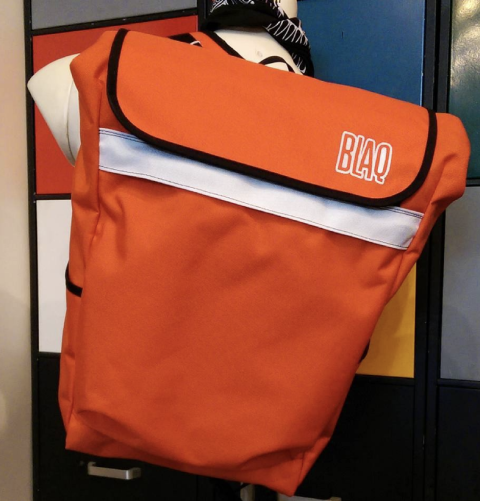 5. Keep your stuff dry with BlaqPak's 10th Anniversary PDX bag ($188-$218). Designed to withstand the constant downpour in Portland and guaranteed for life, this bag features a weather-proof rolltop closure and is fully customizable because each on is made to order, from scratch.
6. Keep your head and hands warm in Flip Side Hats' Callisto ($35) and matching September hand warmer ($32).  This quintessential Portland combo, featured in an episode of Grimm, is perfect for fall hiking or evening dog walking. The brim of the hat is enough to keep the rain off glasses, while the hat is minimal enough to fit under a waterproof hood. The fabric is breathable and stretches to fit all head sizes.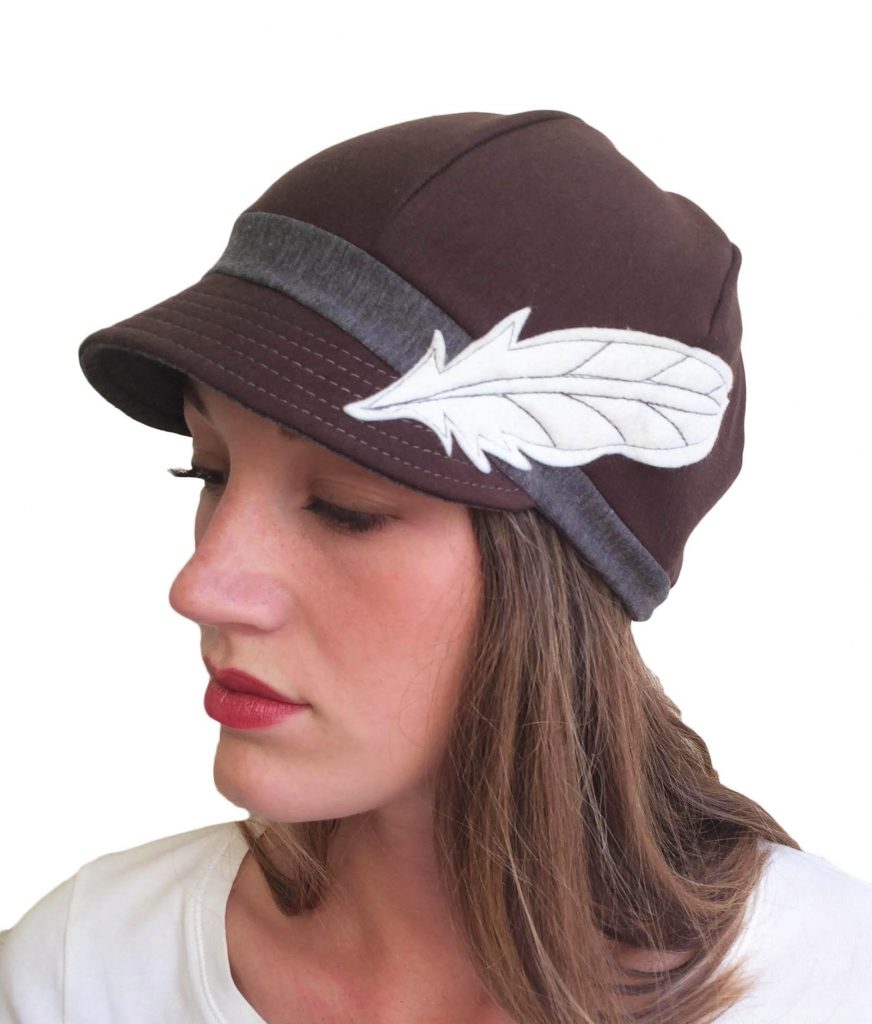 This design is inspired by colors — the warm brown of fall, the grey of winter to come and the pop of white to remind us that spring will come again.
And we're not the only ones to notice the unique combination of colors… Flip Side Hat's CEO/Creative Director Dr. Kori Giudici shared with us "one of my friends once complimented me on my ability to combine grey and brown hues. I remembered this when designing for fall. I love the complexity that certain shades of grey can offer, and to pair these with brown is beautiful if done well. I love finding the beauty in color combining that is unusual and unexpected. Of course we have the classics; but stretching the color palette is where my joy lives."  
7. Keep your head dry and support for your favorite local team with Grafletics' The Game On Cap ($36)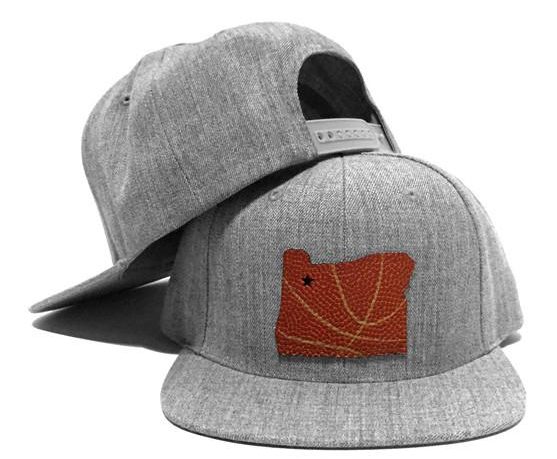 Made of a wool blend which lends itself nicely to fall, this cap features both grey and black color ways that is great for going to a blazer game or strolling around town.
Inspired by his experience moving to a new city, for owner/designer Rick Gilbert everything about the design is influenced from Portland… "from the playground to the Moda Center, from the Soccer Field at Chapman to Providence Park, the state outline of Oregon, and Star embroidery for Portland. It's a Portland thing created by someone who participates in the sport as both a fan and athlete. For me, I only make things I'm engaged with and feel part of, I can't do it any other way… I think there's also a subtleness to the design that resonates with Portlanders. It's a way to represent without screaming 'I'm a super fan'!"
8. Keep your feet dry and in style with KEEN's Elsa Chelsea Boot ($110) or Sorel's After Hours Chelsea Boot ($170)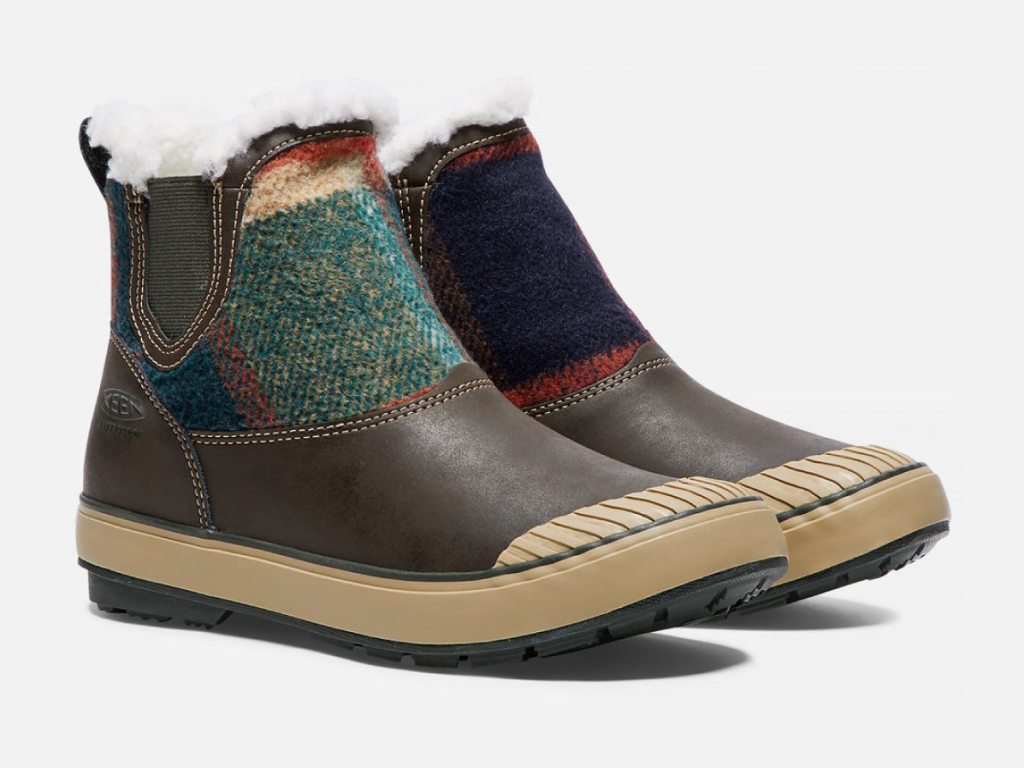 The fleece and plaid prints of this KEEN Elsa boot was "influenced by 90's grunge, a staple of the PacNW."  Standard tartans, the mix of colors and plaids provide many options to pull your look together. It features a 100g of KEEN.Warm insulation package so it can be worn from fall through spring. It is designed to fit like a sneaker, so it's more versatile and comfortable than a traditional boot.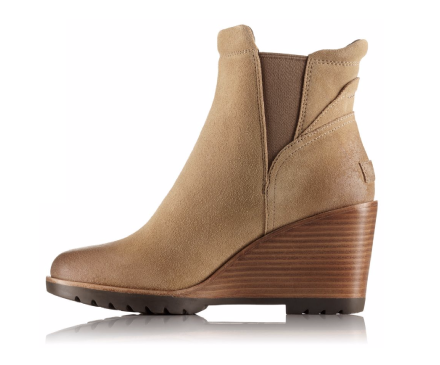 Sorel's waterproof After Hours Chelsea Boot features a sleek wedge and a cushioned midsole with classic Chelsea-style stretch cutouts making it comfortable enough to wear all day (and night) long. It is part of Sorel's fall #LiveToDefy campaign, in which they partnered with eight bold, confident females that each live to defy obstacles, the word 'no', and limitations.
From defying obstacles, never settling, and making things possible with drive and passion, this boot seems to be embodying some of our favorite Portland traits.
What are your favorite Portland A&O fall products? Share with us on Twitter or Instagram with #PDXAOfall